AVer Earns CommonWealth Magazine "Below 1.5°C" Certification for Exemplary Sustainability
Fremont, CA - Auguest 3, 2023
AVer Information Inc. USA,
the award-winning provider of education technology and video collaboration solutions, has been awarded the "Below 1.5°C" Certification. The certification is awarded by
CommonWealth Magazine
using the
Temperature Rising Index for Pathways (TRIPs) Evaluation
. The "Below 1.5°C" Certification commends AVer's commitment to the
Paris Agreement's 1.5°C threshold
.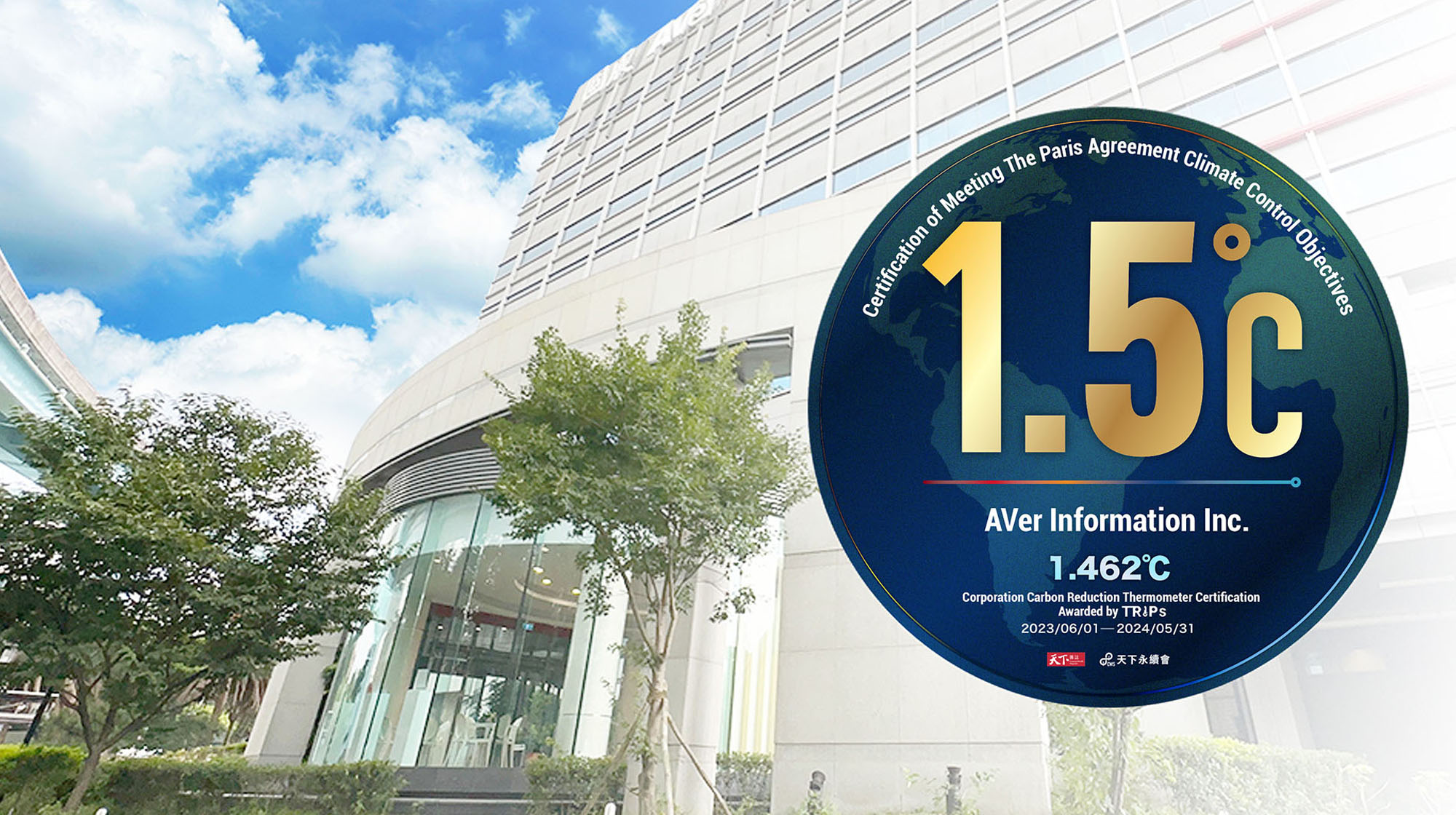 CommonWealth Magazine, Tunghai University, and other industry partners established the TRIPs Evaluation, assessing the sustainability reports of 725 Taiwanese enterprises. Only 94 businesses obtained scores that comply with the Paris Agreement's 1.5°C target, and AVer is honored to be listed amongst them, demonstrating resolve to reach net-zero carbon emissions.
AVer has long regarded ESG as crucial in the company's development, not only actively participating in net-zero initiatives such as taking inventory of AVer's carbon emissions. With the base year of 2021, AVer intends to reduce carbon emissions by 10% each year in order to achieve carbon neutrality by 2030 and net zero by 2050, contributing to a sustainable future for future generations.
"AVer is incredibly passionate about using technological innovation to empower and enrich human communication through our products, but we have never compromised on our values on the way to success which include our commitment to environmental protection to lower carbon emissions through our ESG activities,"




"We are thrilled to receive this certification for our green manufacturing processes in Taiwan."
For more information on AVer's ESG initiatives, please see www.aver.com/page/Corporate-Social-Responsibility.
About AVer Information Inc.
Founded in 2008, AVer is an award-winning provider of education technology and video collaboration camera solutions that improve productivity and enrich learning. From accelerating learning in the classroom to increasing competitive advantage for businesses, AVer solutions leverage the power of technology to help people connect with one another to achieve great things. Our product portfolio includes Professional Grade Artificial Intelligence Enabled Auto Tracking Cameras, Zoom and Microsoft Teams Certified Enterprise Grade USB Cameras, Document Cameras and Mobile Device Charging Solutions. We strive to provide industry leading service and support that exceeds our customer's expectations. We are also deeply committed to our community, the environment and employ stringent green processes in all we do. Learn more at
averusa.com
and follow us
@AVerInformation
.
Press and Media Inquiries
James Salter
Senior Vice President of Marketing
AVer Information Inc. Americas
P: +1-408-687-5781
E:
james.salter@aver.com
Go Back