AVer Announces VB342+ All-In-One Soundbar is Certified for Microsoft Teams
Make the Most of Your Meetings with A Seamless Experience
Fremont, CA – November 12, 2020
AVer Information Inc. USA, an award-winning provider of video collaboration solutions and education technology solutions, announced today the VB342+, an all-in-one USB soundbar, is now Certified for Microsoft Teams and Skype for Business. The VB342+ is optimized to deliver an exceptional audio-visual experience to huddle and small conference rooms and works seamlessly with Teams or Skype for Business software.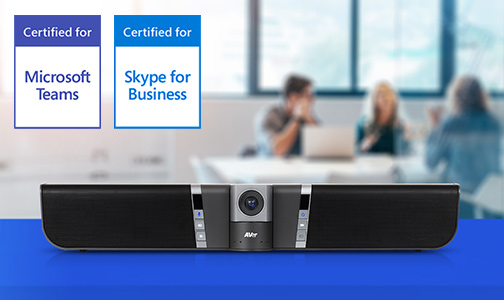 Video Conferencing meetings just got better with the VB342+. AVer's all-in-one soundbar features an enterprise-grade 4K conference camera, SmartFrame technology, and powerful bass speakers that wraps your space in high-quality audio. The VB342+ boosts professionalism to a whole new level with vivid 4K images, 120° wide-angle FOV, and SmartSpeaker auto-tracking functionality. It has one of the widest possible fields of view with zero distortion, perfect for capturing team members further apart in huddle rooms. The VB342+ is an easy to use, plug-and-play device that is compatible with all your favorite applications and connects to virtually any desktop or laptop, via a single USB cable.
"AVer further simplifies the customer journey for Microsoft users and lets them make the most of their meetings by offering affordable, high-quality solutions for every type of collaboration."



"AVer's VB342+ is the newest addition to the devices Certified for Microsoft Teams, expanding the Teams meeting device offerings for our focus and small meeting room solutions. The broader collaboration with AVer offers our customers the opportunity to enhance their audio and video experience in Teams meetings with a high-quality video hardware solution."



The CAM540, CAM520 PRO Standard, and CAM520 PRO Advanced are also certified for Microsoft Teams and Skype for Business. For more information about AVer hardware solutions, visit www.averusa.com/business/Microsoft or call (408) 813-8696.
About AVer Information Inc.
Founded in 2008, AVer is an award-winning provider of education technology and video collaboration camera solutions that improve productivity and enrich learning. From accelerating learning in the classroom to increasing competitive advantage for businesses, AVer solutions leverage the power of technology to help people connect with one another to achieve great things. Our product portfolio includes Professional Grade Artificial Intelligence Enabled Auto Tracking Cameras, Zoom and Microsoft Teams Certified Enterprise Grade USB Cameras, Document Cameras and Mobile Device Charging Solutions. We strive to provide industry leading service and support that exceeds our customer's expectations. We are also deeply committed to our community, the environment and employ stringent green processes in all we do. Learn more at
averusa.com
and follow us
@AVerInformation
.
Press and Media Inquiries
Alice Stevens
Channel Marketing Director
AVer Information Inc. Americas
P: +1-408-821-1304
E:
alice.stevens@aver.com
Go Back