AVer Adds CAM550 to Hybrid Meeting Bundle
AVer, Lenovo and Yamaha partner to offer hybrid-room ready solution with Microsoft Teams certification
Fremont, CA – February 22, 2023
AVer Information Inc. USA, the award-winning provider of education technology and video collaboration solutions, announces a technology collaboration with Lenovo and Yamaha Unified Communications to create an updated Microsoft Teams certification solution for seamless, global collaboration. The plug-and-play hybrid meeting bundles include AVer's CAM550, Lenovo's ThinkSmart Core+ Controller and Yamaha's ADECIA Ceiling Mic and Speaker Solution.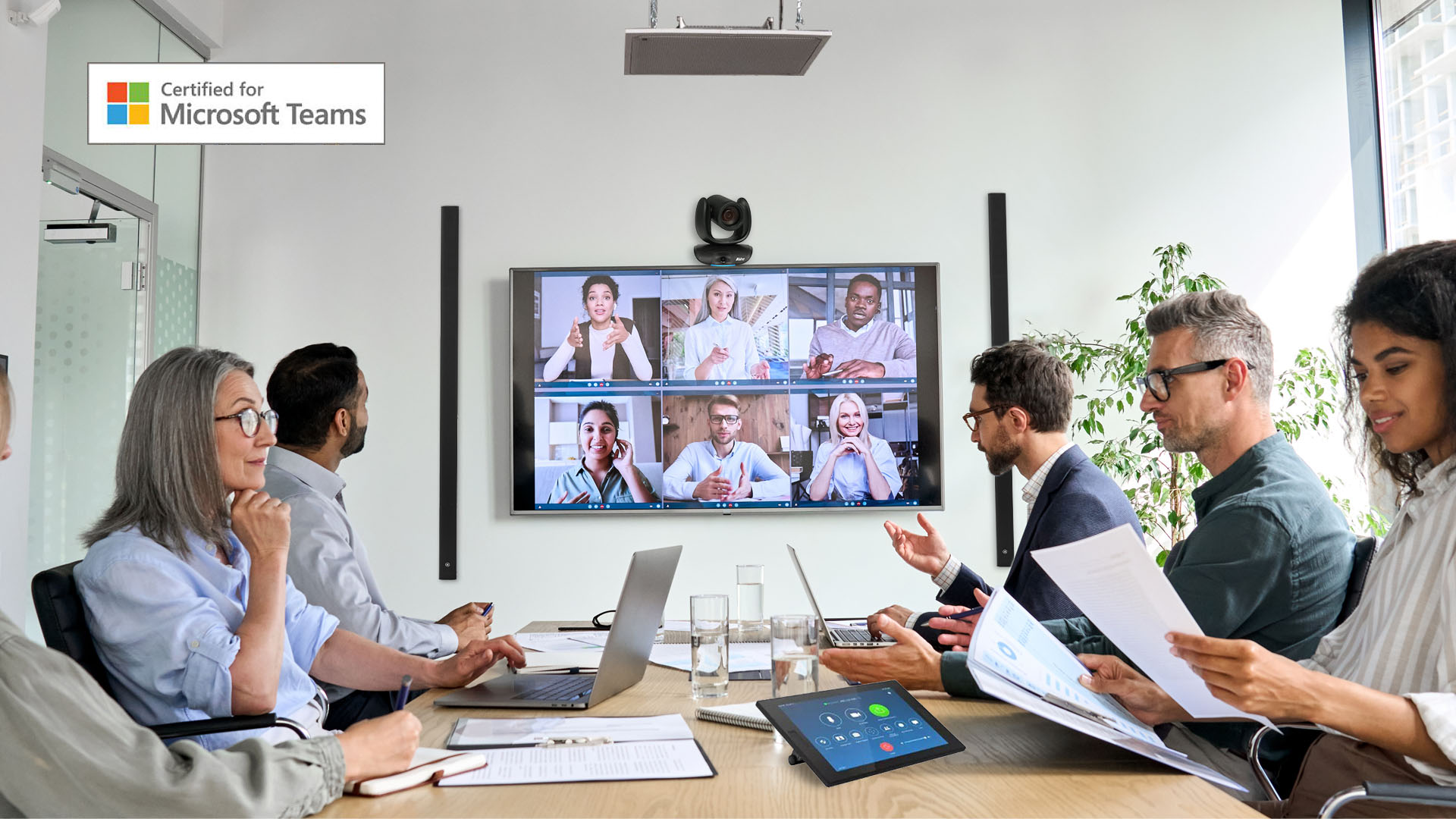 "Together, Lenovo, Yamaha and AVer's CAM550 create a unified collaboration experience for business meeting spaces and remote offices,"




"AVer's expanded partnership with Lenovo and Yamaha provides a complete package for customers to easily and efficiently deploy, configure and manage a high-quality Microsoft Teams environment."
AVer's CAM550 equips two 4K lenses to capture a complete view of the room with wide-angle clarity. The first PTZ camera with 12X optical zoom (24X total zoom) to frame meeting participants, the CAM550 boasts an AI lens for automated PTZ functionality to deliver a full view of meeting attendees and seamlessly detect meeting newcomers. The CAM550 includes a secondary AI lens designed to capture and automatically re-frame meeting participants moving in and around the room. The CAM550 boasts built-in AI gesture recognition to operate the camera; meanwhile, it eliminates common touchpoints to increase meeting safety. Meeting participants can easily control the camera through AI functionality by holding up one finger on either side of the face.
"With our smart collaboration solutions, we are laser focused on delivering an enhanced customer experience for all meeting participants, whether they are in the conference room or joining remotely,"




"Together with industry-leading partners AVer and Yamaha, our easy-to-use, all-in-one bundle delivers a tremendous Microsoft Teams experience."
"Yamaha's ADECIA provides crystal-clear, professional-grade audio without needing an AV professional to install it,"




"Meetings can't happen without sound. Yamaha's decades of engineering expertise ensures that the Hybrid Room-Ready Bundle is always meeting-ready."
Lenovo's ThinkSmart Core+ Controller, Yamaha's ADECIA Ceiling Mic and Speaker Solution and AVer's CAM550 offer seamless connectivity for Microsoft Teams to create a hybrid-room ready solution. AVer's technology collaboration will provide users with another layer of seamless technology to increase meeting efficiency and participant engagement. AVer's solutions establish a safe collaboration culture in any organization and make productivity and engagement higher for all meeting attendees, even the remote ones.
To learn more about AVer Information Inc. USA, please visit averusa.com.
About AVer Information Inc.
Founded in 2008, AVer is an award-winning provider of education technology and video collaboration camera solutions that improve productivity and enrich learning. From accelerating learning in the classroom to increasing competitive advantage for businesses, AVer solutions leverage the power of technology to help people connect with one another to achieve great things. Our product portfolio includes Professional Grade Artificial Intelligence Enabled Auto Tracking Cameras, Zoom and Microsoft Teams Certified Enterprise Grade USB Cameras, Document Cameras and Mobile Device Charging Solutions. We strive to provide industry leading service and support that exceeds our customer's expectations. We are also deeply committed to our community, the environment and employ stringent green processes in all we do. Learn more at
averusa.com
and follow us
@AVerInformation
.
Press and Media Inquiries
Alice Stevens
Channel Marketing Director
AVer Information Inc. Americas
P: +1-408-821-1304
E:
alice.stevens@aver.com
Go Back