AVer Receives 2023 Unified Communications Product of the Year Award
AVer CAM570 honored by TMC for exceptional innovation
Fremont, CA – May 4, 2023
AVer Information Inc. USA announced today that TMC, a global, integrated media company helping clients build communities in print, in person and online, has named the CAM570 as a 2023 Unified Communications Product of the Year Award winner.
AVer's CAM570, a pan, tilt, zoom (PTZ) conferencing camera, includes premium-grade features that enable users to deliver in-person meeting experiences to remote participants. The CAM570 boasts a 4K dual-lens camera with 36X total zoom and an AI lens with 95-degree FOV. AVer's beamforming technology guides the PTZ camera to focus on the most relevant activity in a meeting, meanwhile eliminating unnecessary audio with mouth and human voice detection. The CAM570 features three pairs of built-in voice sensors with beamforming technology and two 4K lenses to track speakers up to 10 meters away.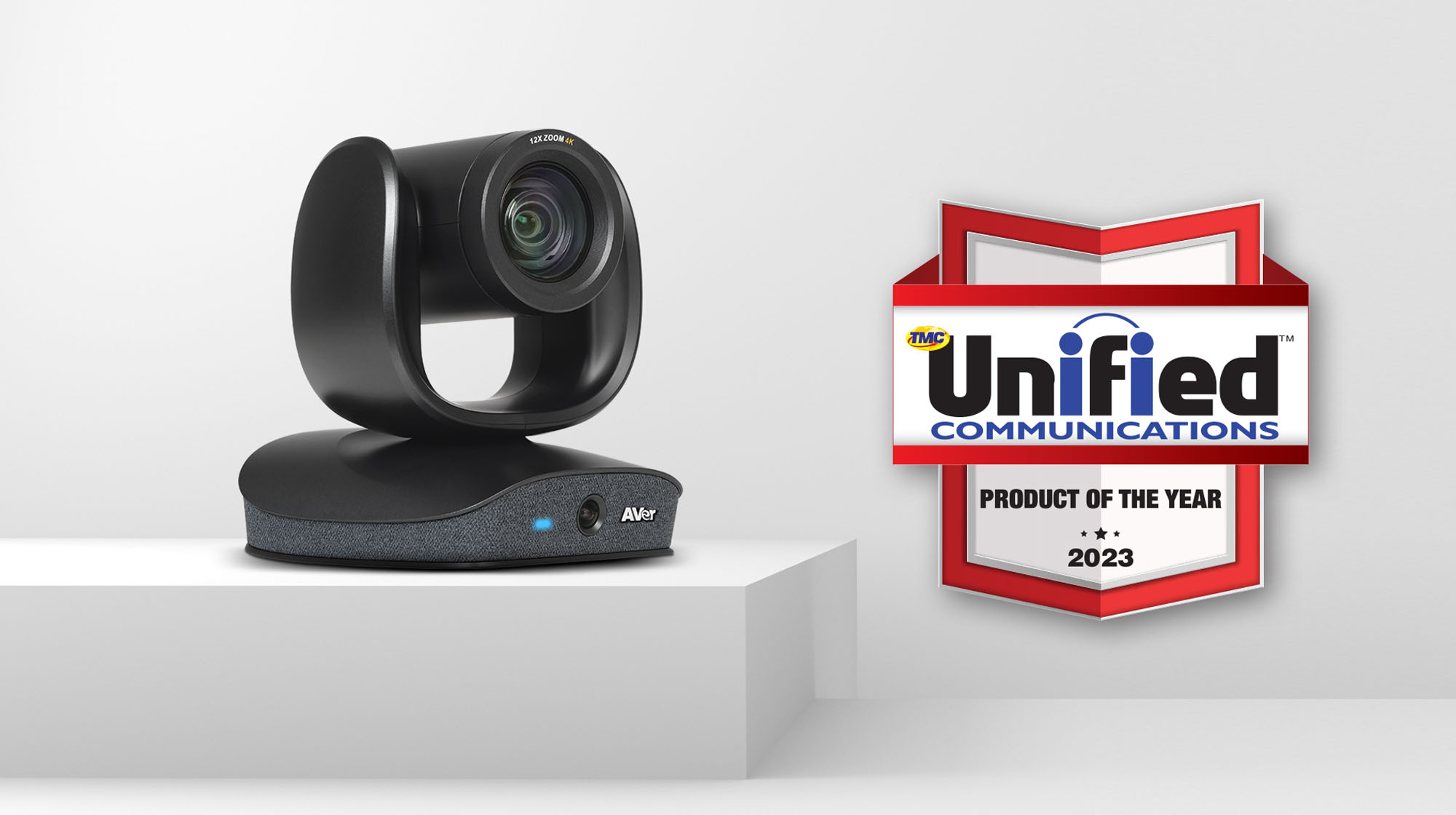 "We are honored to receive the Unified Communications Product of the Year Award for the CAM570,"




"The CAM570 features intelligent AI technology to empower seamless connectivity and collaboration equity. With the CAM570, individuals will have equal representation in meetings through arranged close-ups around a panoramic view of the entire group."
"It gives me great pleasure to honor AVer as a 2023 recipient of TMC's Unified Communications Product of the Year Award for their innovative solution, the CAM570,"




"Our judges were very impressed with the ingenuity and excellence displayed by AVer in their groundbreaking work on the CAM570."
The CAM570 combines AVer's cutting-edge features, including Dynamic Detection and Smart Gallery, to create the ultimate collaboration and presentation solution. Dynamic Detection automatically adjusts the camera angle and zoom to capture every meeting participant. Additionally, AVer's Smart Gallery merges close-ups of everyone in the room to enable collaboration equity.
Winners of the 2023 Unified Communications Product of the Year Award will be announced online and highlighted in INTERNET TELEPHONY magazine online.
Keep up with the latest news from AVer on Facebook, Twitter, and LinkedIn. To learn more about AVer Information Inc. USA, please visit averusa.com.
About AVer Information Inc.
Founded in 2008, AVer is an award-winning provider of education technology and video collaboration camera solutions that improve productivity and enrich learning. From accelerating learning in the classroom to increasing competitive advantage for businesses, AVer solutions leverage the power of technology to help people connect with one another to achieve great things. Our product portfolio includes Professional Grade Artificial Intelligence Enabled Auto Tracking Cameras, Zoom and Microsoft Teams Certified Enterprise Grade USB Cameras, Document Cameras and Mobile Device Charging Solutions. We strive to provide industry leading service and support that exceeds our customer's expectations. We are also deeply committed to our community, the environment and employ stringent green processes in all we do. Learn more at
averusa.com
and follow us
@AVerInformation
.
Press and Media Inquiries
Alice Stevens
Channel Marketing Director
AVer Information Inc. Americas
P: +1-408-821-1304
E:
alice.stevens@aver.com
Go Back