AVer Releases a New Customizable, Intelligent Charging Cart
Fremont, CA - March 1, 2016
AVer Information, Inc., a leading provider of business and educational technology solutions releases a new customizable charging cart loaded with cost-effective features to support all tablets, laptops, and Chromebooks up to 14" screens. C36i is the first of AVer's charging product line to maintain its intelligent charging system meanwhile providing adjustable slot dividers to allow flexible storage. Classrooms are able to conserve energy use, save money, and manage mixed medias or devices all in one cart.
"We are thrilled to announce the launch of C36i," remarks Arthur S. Pait, President of AVer Information Inc. Americas. "It is the ultimate charging cart our customers have been waiting for. Schools can customize their carts to best fit their device management needs and still have a cost and energy efficient charging system."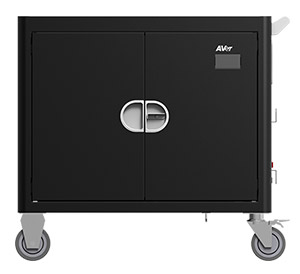 C36i features include:
New cable management supporting up to 36 devices
Flexible and customizable slot dividers
Self-monitoring, intelligent charging system
Easy access slide-out shelves
Secure and durable design
The charging cart's new lock-in cable design to prevent cables from slipping and sliding during deployment. The firm grip makes it easier for students and teachers to access devices safely without interference or worry of loose cables. Its secure cable management combined with value-added features such as slide-out shelves, three-point locking mechanism, and dedicated auxiliary outlets will provide end users a seamless device management experience.
As Tech&Learning Magazine's 2015 Stellar Service Award winner, AVer continues to uphold its high standards of customer service. C36i is backed with a 10-yr mechanical/5-yr electrical warranty and an expert US based technical support team. With the most comprehensive feature set, C36i has all the bells and whistles a teacher can ask for. To learn more about C36i, visit http://averusa.com/education/products/charging-cart/c36i.asp
About AVer Information Inc.
Founded in 2008, AVer is an award-winning provider of education technology and video collaboration camera solutions that improve productivity and enrich learning. From accelerating learning in the classroom to increasing competitive advantage for businesses, AVer solutions leverage the power of technology to help people connect with one another to achieve great things. Our product portfolio includes Professional Grade Artificial Intelligence Enabled Auto Tracking Cameras, Zoom and Microsoft Teams Certified Enterprise Grade USB Cameras, Document Cameras and Mobile Device Charging Solutions. We strive to provide industry leading service and support that exceeds our customer's expectations. We are also deeply committed to our community, the environment and employ stringent green processes in all we do. Learn more at
averusa.com
and follow us
@AVerInformation
.
Go Back