AVer Announces New Economical Charging Solution
Fremont, CA - May 26, 2016
AVer Information Inc., a leading provider of innovative educational and business technology solutions announced a new economical charging cart to support classrooms seeking a cost-effective device management system. AVer's latest charging solution, E36c provides educators with charging capabilities needed to efficiently and effortlessly manage classroom devices.
"Our goal is to provide a charging solution that offers users the best possible experience regardless of the size or budget of a school," states Jay Lyons, Senior Product Manager of AVer Information Inc. Americas. "E36c is the most affordable economical charging cart in the market right now to provide all the essential functions without sacrificing quality."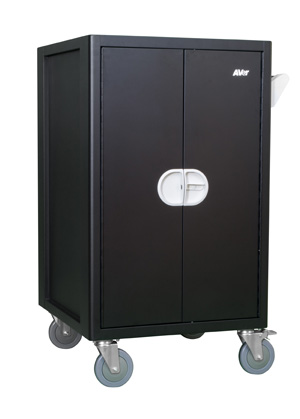 E36c features include:
Clear-cut cable and power management
Smaller footprint with higher device capacity
Easy maneuverability
Space-saving and durable design
The open and sleek design supports 36 mobile devices up to 15" screen and provides a smooth top surface for optional space usage. Chromebooks, laptops, or notebooks can be easily cabled and fully charged free of any program setup or circuit overload. E36c provides even device charging cycle that automatically circulates charges through each row of devices. Its solid steel construction and 3-point steel locking mechanism provides durable device protection.
E36c includes a 10-year mechanical and 5-year electrical warranty with free onsite repair and technical support. To learn more about E36c, visit http://www.averusa.com/education/products/charging-cart/e36c.asp
About AVer Information Inc.
Founded in 2008, AVer is an award-winning provider of education technology and video collaboration camera solutions that improve productivity and enrich learning. From accelerating learning in the classroom to increasing competitive advantage for businesses, AVer solutions leverage the power of technology to help people connect with one another to achieve great things. Our product portfolio includes Professional Grade Artificial Intelligence Enabled Auto Tracking Cameras, Zoom and Microsoft Teams Certified Enterprise Grade USB Cameras, Document Cameras and Mobile Device Charging Solutions. We strive to provide industry leading service and support that exceeds our customer's expectations. We are also deeply committed to our community, the environment and employ stringent green processes in all we do. Learn more at
averusa.com
and follow us
@AVerInformation
.
Go Back