AVer Information Inc. USA Wins Two ISTE 2019 Best of Show Awards
Tech & Learning Awards AVer Next Generation Wireless Multifunctional Camera and Interactive Flat Panel with ZoomRooms
Fremont, CA – July 9, 2019
AVer Information Inc. USA, the award-winning provider of video collaboration solutions and education technology solutions today announced it has won two ISTE 2019 Best of Show Awards for the AVer M15W Wireless Multifunctional Document Camera and the EP65 all-in-one Interactive Flat Panel with ZoomRooms for collaboration. The program recognizes outstanding products exhibited at the ISTE show. The awards are presented by K-12 education technology resource Tech & Learning, with independent evaluations by a panel of some of the country's most innovative educators who inspect each product at the convention.
AVer M15W Wireless Multifunctional Camera:
The new AVer M15W is the versatile Swiss army knife of wireless cameras to empower educators and students to share, discover and learn. Designed to meet the multifunctional needs of the modern classroom, it features WiFi, HDMI and USB connectivity, 23x digital zoom, 4K output for the sharpest picture, wide shooting range, mechanical arm and rich 13 megapixels to capture fine details as a classroom document camera. The M15W can also serve as a true videoconferencing solution with high definition resolution and built-in microphone to support integration with Skype or Zoom applications. Weighing approximately 3 pounds, with an on-board battery and collapsing to a compact 11" x 3" x 1.6" footprint, the M15W offers excellent mobility around any classroom or learning environment.
EP65 All-in-One Interactive Flat Panel: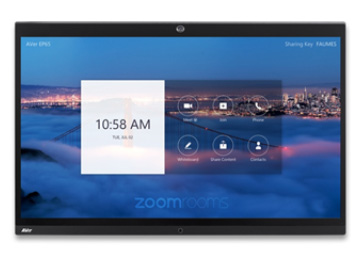 The EP65 interactive flat panel display is an all-in-one solution designed to make collaboration more efficient and effective for all organizations, including schools and district administration offices. Integrated with Zoom software the panel allows for out of the box annotations with 20 points of touch and multiple users. With nothing additional to install, the EP65 allows you to easily connect to live video with a built-in 4K camera and one touch to share ideas and perform training face-to-face across multiple devices.
"We are honored to receive these ISTE Best of Show awards which underline our dedication to releasing new and innovative solutions with wireless that works. We look forward to helping our education customers to create the best learning and sharing environments with these two new products."
ISTE 2019 Best of Show winners will be highlighted in the August 2019 print issue of Tech & Learning. A full list of winners recognized at ISTE can be found at Tech & Learning magazine.
About AVer Information Inc.
Founded in 2008, AVer is an award-winning provider of education technology and video collaboration camera solutions that improve productivity and enrich learning. From accelerating learning in the classroom to increasing competitive advantage for businesses, AVer solutions leverage the power of technology to help people connect with one another to achieve great things. Our product portfolio includes Professional Grade Artificial Intelligence Enabled Auto Tracking Cameras, Zoom and Microsoft Teams Certified Enterprise Grade USB Cameras, Document Cameras and Mobile Device Charging Solutions. We strive to provide industry leading service and support that exceeds our customer's expectations. We are also deeply committed to our community, the environment and employ stringent green processes in all we do. Learn more at
averusa.com
and follow us
@AVerInformation
.
Go Back