AVer Information Announces New Distance Learning and Classroom Solutions at FETC2021
AVer to Unveil New Solutions to Support Distance Learning, Hybrid Learning and In-Class Instruction
Fremont, CA - January 21, 2021
AVer Information Inc. USA, the award-winning provider of video collaboration solutions and education technology solutions, announced today new solutions to be announced at FETC 2021 Virtual Conference to help continue evolving the new Distance Learning, Hybrid Learning and In-Class environments.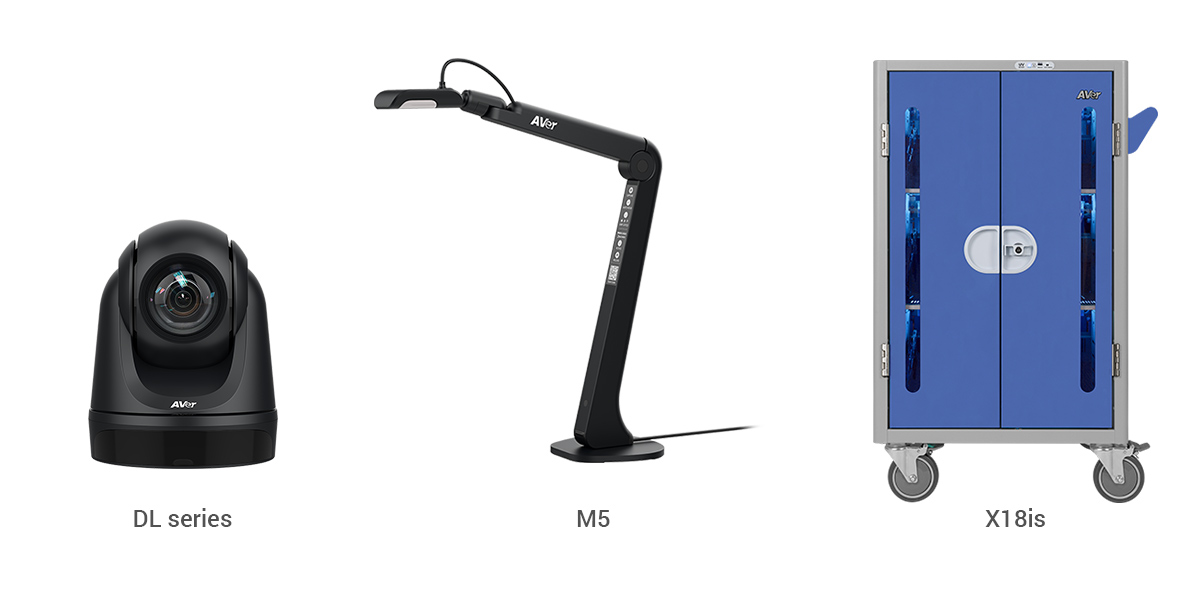 Leading FETC for AVer is the new DL series, Artificial Intelligence (AI) Distance Learning Auto Tracking Cameras. Specifically designed for distance learning and hybrid classroom models, the DL series allows educators to effectively engage their remote learners as if they were still in class.
The new M5 Distance Learning Document Camera boasts high quality document camera performance in a small and portable design that can easily be used between the classroom and home depending on the given climate. Compatible with all major distance learning platforms, the M5 can be used as a document camera, or even as a high quality distance learning webcam.
The new X18is Chromebook Charging Cart will also be introduced as an 18 bay student device charging solution with UV sanitation. Perfect for in-class students, the X18is keeps their devices charged, secure and clean ready for use without missing a beat.
"AVer is dedicated to helping educators best engage and inspire their students regardless of what and where the teaching and learning environment is,"




"These new solutions are not only designed to help educators and students get through the current climate, but will be continue to be sustainable and relevant in the long term as teaching and learning continues to change."
About AVer Information Inc.
Founded in 2008, AVer is an award-winning provider of education technology and video collaboration camera solutions that improve productivity and enrich learning. From accelerating learning in the classroom to increasing competitive advantage for businesses, AVer solutions leverage the power of technology to help people connect with one another to achieve great things. Our product portfolio includes Professional Grade Artificial Intelligence Enabled Auto Tracking Cameras, Zoom and Microsoft Teams Certified Enterprise Grade USB Cameras, Document Cameras and Mobile Device Charging Solutions. We strive to provide industry leading service and support that exceeds our customer's expectations. We are also deeply committed to our community, the environment and employ stringent green processes in all we do. Learn more at
averusa.com
and follow us
@AVerInformation
.
Press and Media Inquiries
James Salter
Senior Vice President of Marketing
AVer Information Inc. Americas
P: +1-408-687-5781
E:
james.salter@aver.com
Go Back