Aver Launches Configurable 16 Device B.Y.O.C.™ (Build Your Own Cart) Classroom Charging Solution
The AVerCharge X16 is an Adjustable and Configurable Student Device Charging and Storage Cart Designed for Today's Ever-Changing Classroom
Fremont, CA - March 22, 2021
AVer Information Inc. USA, the award-winning provider of video collaboration, distance learning and education technology solutions, announced today the launch of the innovative AVerCharge X16, a 16 device customizable charging and storage solution. Adjustable and configurable to meet the needs of today's changing and uncertain student device requirements, the X16 offers a unique and flexible solution to manage student Chromebooks, laptops, tablets, or phones with up to a 15" screen.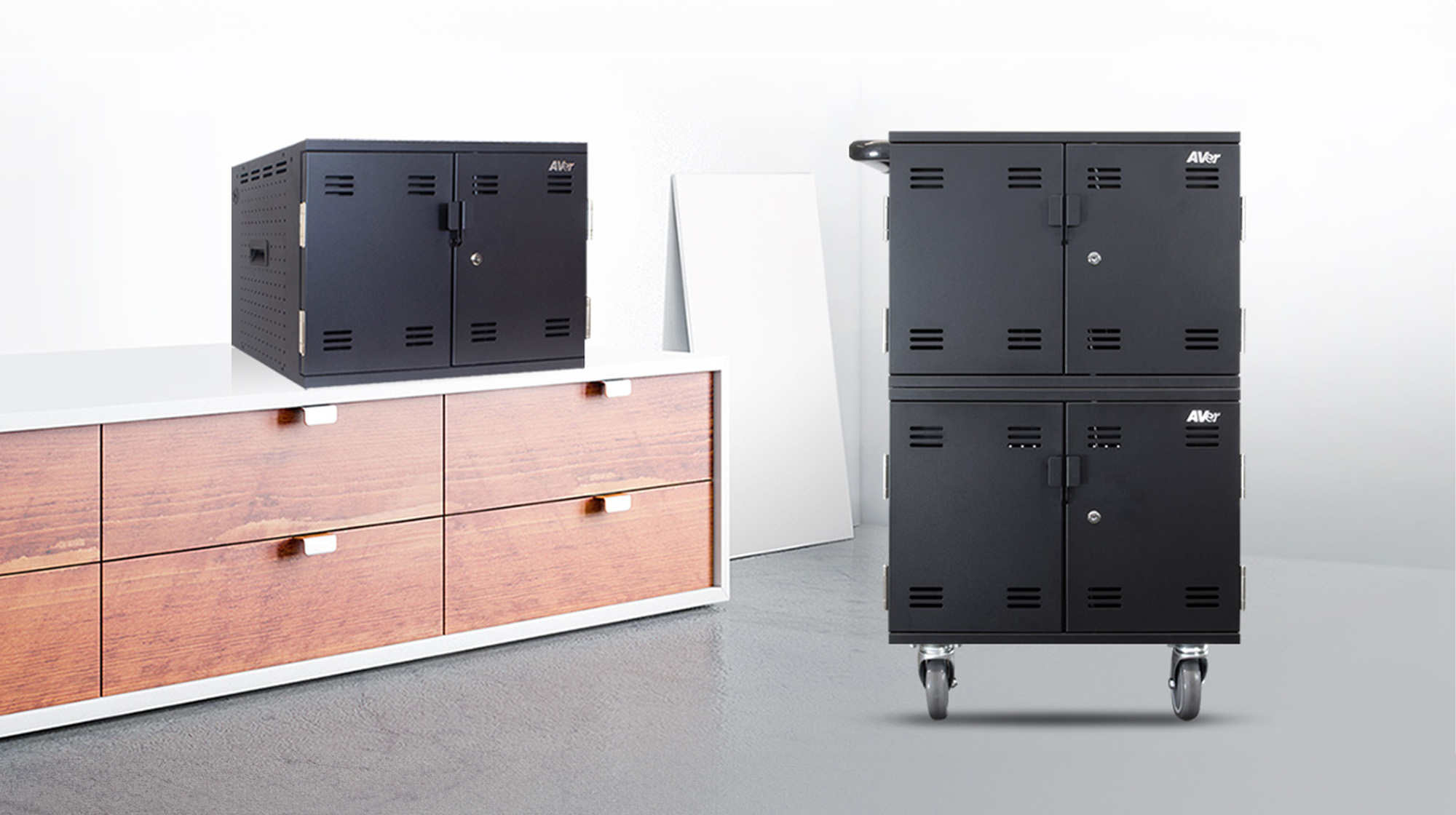 The X16 boasts removeable and adjustable slot dividers, allowing educators to change the width of the slots as well as the number of devices the cabinet can hold for up to 16 devices. The unique peg board design provides a space where small shelves or pegs can be inserted to provide additional storage and easy access for small classroom items such as scissors, glue, rulers and other frequently used tools. Mountable, the X16 can be secured to a wall, or placed on a table for easy access to devices. If charging and securing more than 16 devices becomes necessary, additional cabinets can be stacked on top to accommodate the additional units. Optional 5" casters as well as a handle can be utilized to add mobility to the cart for classroom sharing or moving to long-term storage areas.
Dual locking cable management offers easy, yet secure cabling or modification to the amount or type of charging cables needed regardless of the device type, brand or model. Additional outlets are also available to power other classroom devices such as document cameras or microscopes while the integrated locks on the front door and top provide extra security while devices are charging and stored.
"These ever-changing and uncertain times require flexibility when it comes to how many and the type of student devices that may be needed or brought into a classroom on any given day,"




"The AVerCharge X16 was designed exclusively to quickly and easily accommodate the ambiguity of today's evolving classroom environment."
About AVer Information Inc.
Founded in 2008, AVer is an award-winning provider of education technology and video collaboration camera solutions that improve productivity and enrich learning. From accelerating learning in the classroom to increasing competitive advantage for businesses, AVer solutions leverage the power of technology to help people connect with one another to achieve great things. Our product portfolio includes Professional Grade Artificial Intelligence Enabled Auto Tracking Cameras, Zoom and Microsoft Teams Certified Enterprise Grade USB Cameras, Document Cameras and Mobile Device Charging Solutions. We strive to provide industry leading service and support that exceeds our customer's expectations. We are also deeply committed to our community, the environment and employ stringent green processes in all we do. Learn more at
averusa.com
and follow us
@AVerInformation
.
Press and Media Inquiries
James Salter
Senior Vice President of Marketing
AVer Information Inc. Americas
P: +1-408-687-5781
E:
james.salter@aver.com
Go Back