AVer Information Launches AVerCharge X18is UV Sanitizing Charging Cart
The new X18is is certified to eliminate 99.99% of common microbials in under 5 minutes
Fremont, CA - March 26, 2021
AVer Information Inc. USA, the award-winning provider of video collaboration, distance learning, and education technology solutions, announced today the release of the new X18is UV Sanitizing Charging Cart.
The X18is is an 18-bay student device charging cart with UV sanitation that is SGS certified to kill up to 99.99% of common viruses and bacteria in under 5 minutes. Able to accommodate Chromebooks, laptops, and tablets up to 15", the X18is keeps student devices secure, charged, and safe.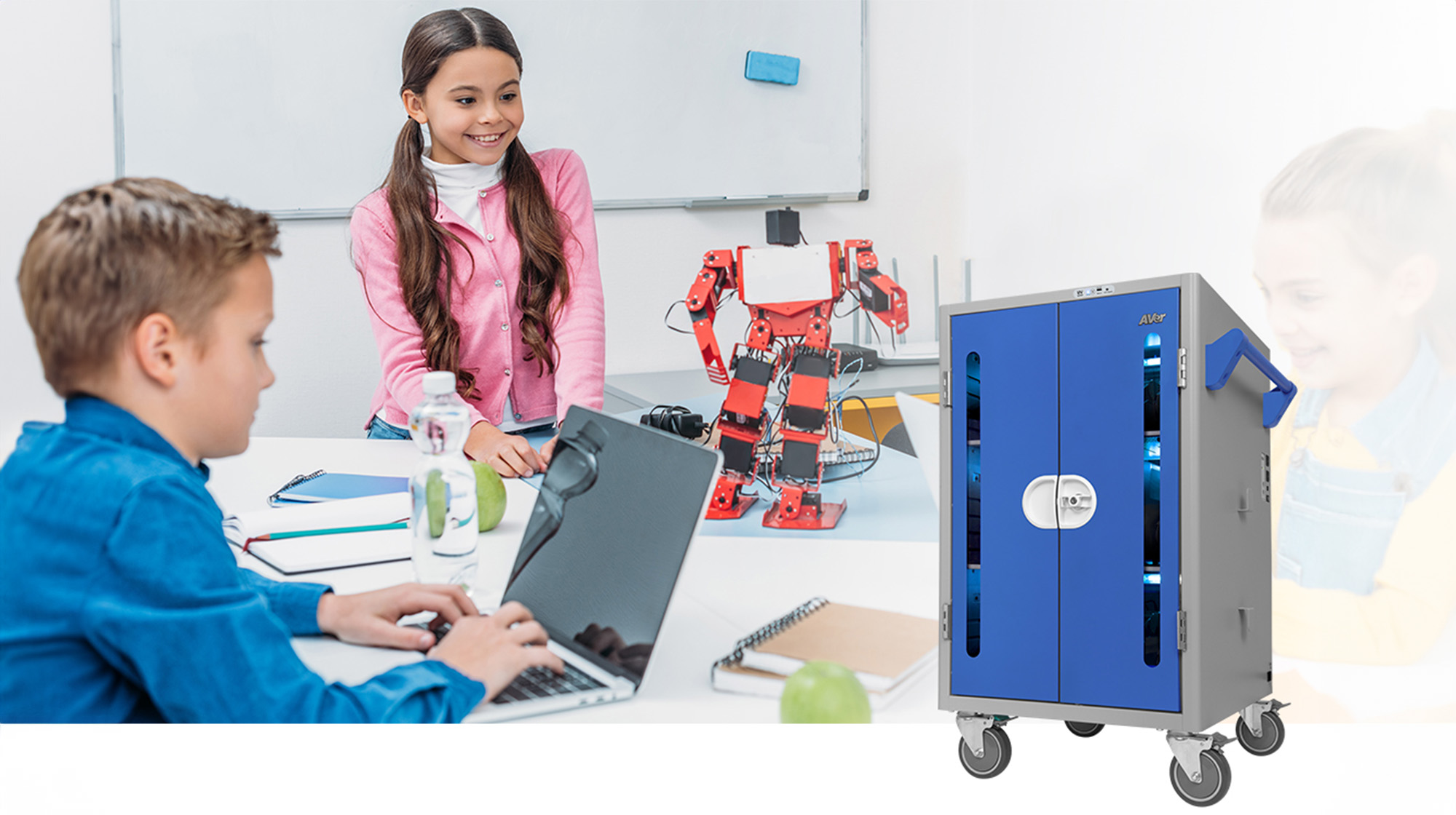 With configurable dividers, the X18is can be customized to fit other devices as well, such as STEM kits, headphones, and other shareable classroom technology. Adaptive intelligent charging ensures that all devices are charged safely, without over- or under-charge, to maximize battery life. Individual AC adaptor compartments keep cabling neat and organized, easily able to switch power adaptors as devices change over time.
"The new X18is is AVer's latest innovation to help keep both teachers and students safe and healthy, regardless of a pandemic climate,"




"As students begin returning to the classroom, their devices not only need to be secure and charged, but should also add to a higher degree of safety and cleanliness."
About AVer Information Inc.
Founded in 2008, AVer is an award-winning provider of education technology and video collaboration camera solutions that improve productivity and enrich learning. From accelerating learning in the classroom to increasing competitive advantage for businesses, AVer solutions leverage the power of technology to help people connect with one another to achieve great things. Our product portfolio includes Professional Grade Artificial Intelligence Enabled Auto Tracking Cameras, Zoom and Microsoft Teams Certified Enterprise Grade USB Cameras, Document Cameras and Mobile Device Charging Solutions. We strive to provide industry leading service and support that exceeds our customer's expectations. We are also deeply committed to our community, the environment and employ stringent green processes in all we do. Learn more at
averusa.com
and follow us
@AVerInformation
.
Press and Media Inquiries
James Salter
Senior Vice President of Marketing
AVer Information Inc. Americas
P: +1-408-687-5781
E:
james.salter@aver.com
Go Back