AVer Launches Advanced 4K AI All-In-One Distance Learning Collaboration Solution
The AVer VB130 Features an AI Tracking Camera with Built-in Soundbar and Microphones
Fremont, CA - June 28, 2021
AVer Information Inc. USA., the award-winning provider of video collaboration solutions and education technology solutions, announced today the launch of the innovative VB130 All-In-One Distance Learning Collaboration Solution. Designed for the evolving K-12 distance learning classroom, the VB130 combines 4K video and selectable 120o or 90o Field of View with clear bult-in audio to give remote students a true in-class experience, while allowing in-class students and their teacher to hear audio from classmates at home.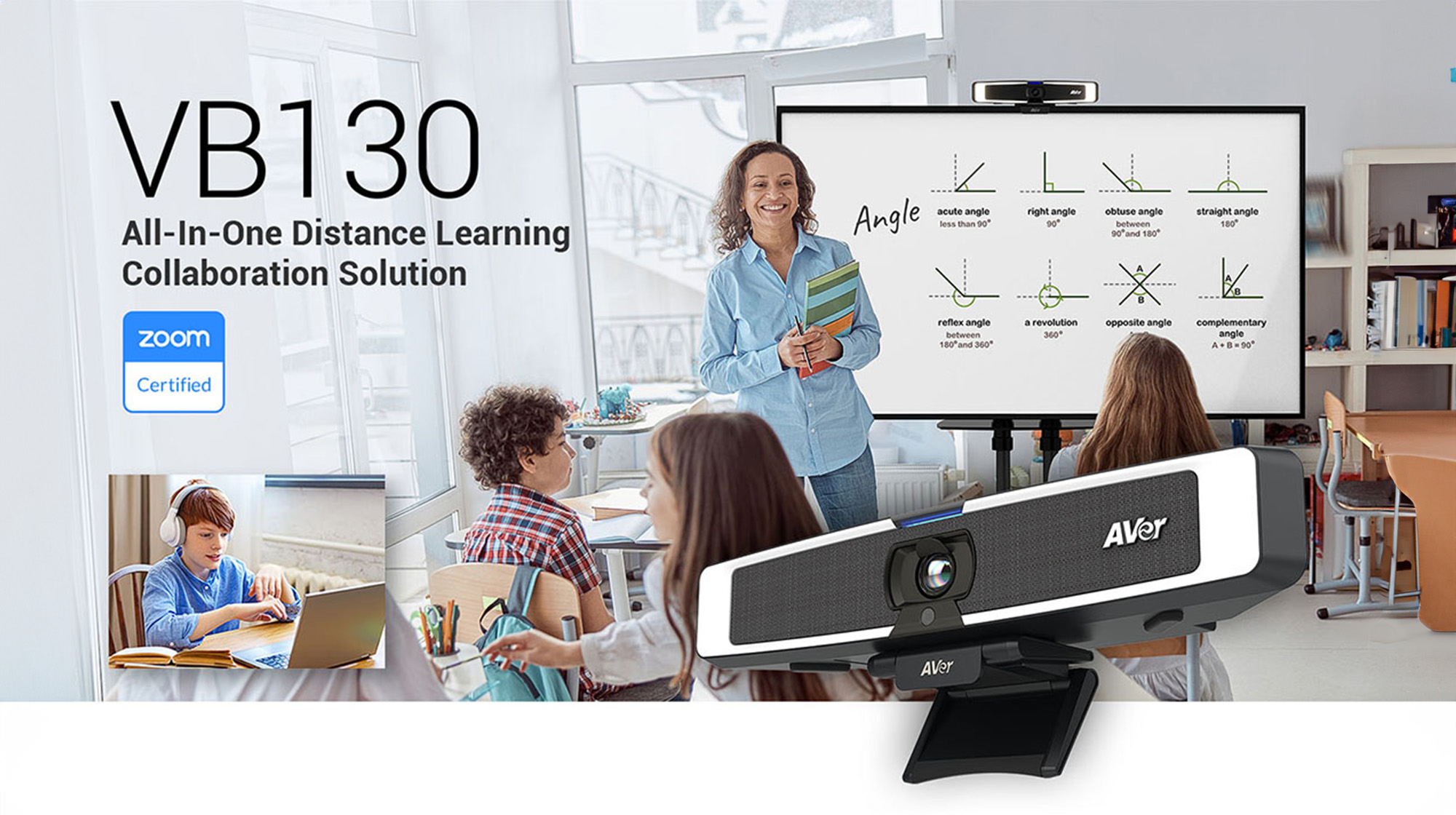 The VB130 video bar features advanced AI technology combining SmartFrame technology with voice tracking to keep the teacher in camera view while reducing background noise so remote learners do not lose site of their teacher. The 4X zoom focuses on the teacher as he or she moves about the classroom, while USB connectivity allows it to seamlessly integrate with all distance learning platforms such as Zoom, Microsoft Teams, Google Meet and others.
The built-in soundbar provides clear audio for the class while remote learners are participating, while the built-in microphone captures teacher and in-class audio for remote students to clearly hear. Its compact size at under 14 inches wide makes the VB130 extremely portable, easily moving it from class to class, or even brought home if the situation calls for it.
A manual privacy shutter is included to ensure the camera is not broadcasting during classroom downtime or during private conferences while the built-in illumination keeps the class or teacher visible during low-light situations.
"The VB130 is the perfect all-in-one audio and video distance learning solution for schools and districts who are moving forward with long-term distance and hybrid learning options for remote students,"




"The VB130 is also compact and portable, so if school shut-downs ever occur again, it can easily be taken home for remote teaching."
About AVer Information Inc.
Founded in 2008, AVer is an award-winning provider of education technology and video collaboration camera solutions that improve productivity and enrich learning. From accelerating learning in the classroom to increasing competitive advantage for businesses, AVer solutions leverage the power of technology to help people connect with one another to achieve great things. Our product portfolio includes Professional Grade Artificial Intelligence Enabled Auto Tracking Cameras, Zoom and Microsoft Teams Certified Enterprise Grade USB Cameras, Document Cameras and Mobile Device Charging Solutions. We strive to provide industry leading service and support that exceeds our customer's expectations. We are also deeply committed to our community, the environment and employ stringent green processes in all we do. Learn more at
averusa.com
and follow us
@AVerInformation
.
Press and Media Inquiries
James Salter
Senior Vice President of Marketing
AVer Information Inc. Americas
P: +1-408-687-5781
E:
james.salter@aver.com
Go Back