AVer Rolls Out Microsoft Designed For Surface Charging Solution
AVer C36i+ Receives Designation to Support the Next Generation of Microsoft Surface Devices
Fremont, CA - January 20, 2022
AVer Information Inc., Americas the award-winning provider of video collaboration solutions and education technology solutions, announced today they have teamed up with Microsoft's Designed for Surface program. Tested to ensure optimum performance with Microsoft Surface Laptops, AVer Laptop Carts quickly and easily charge the devices, as well as provide locking storage.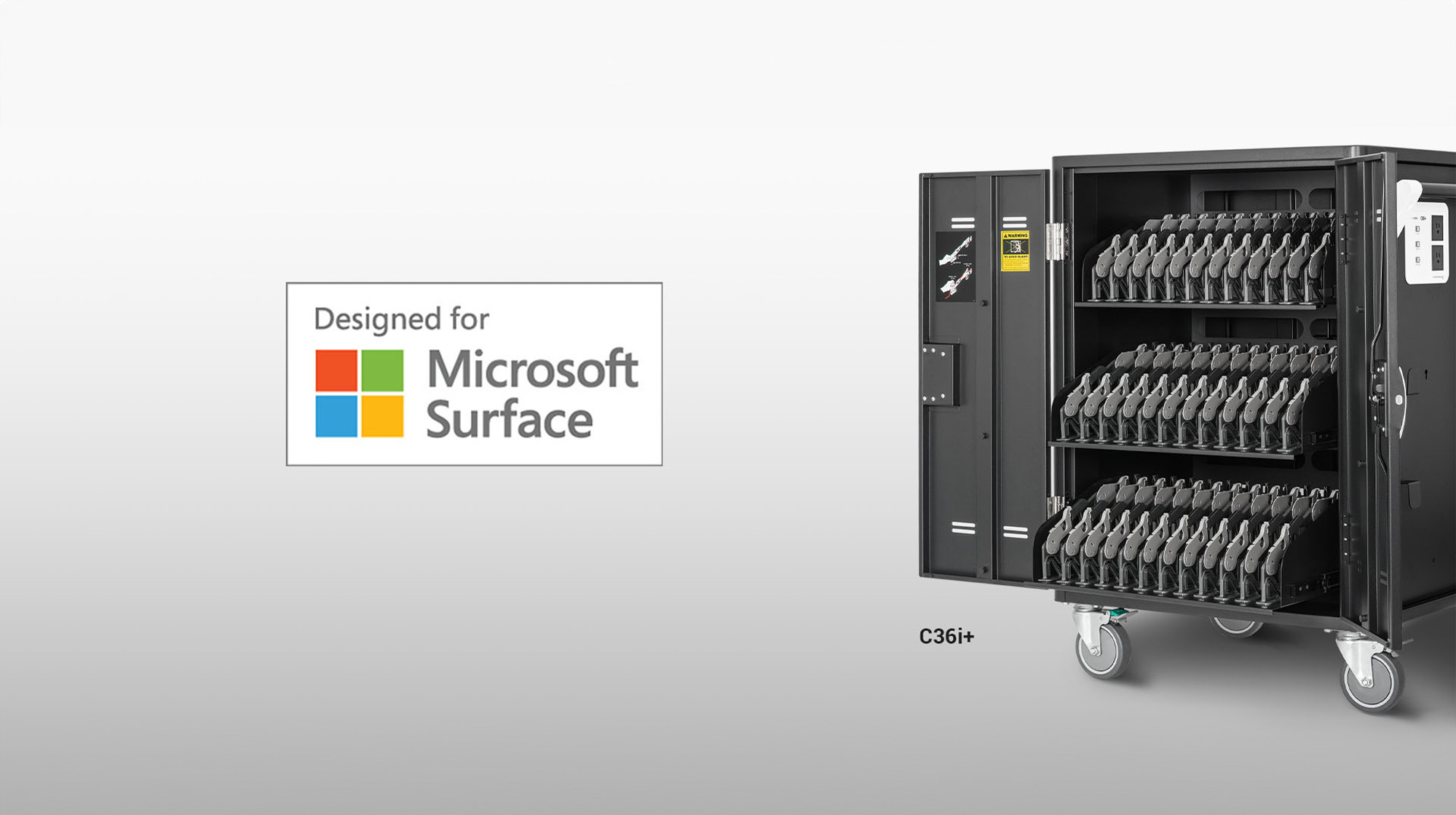 Typically utilized to charge and safely store laptops and other devices for education, healthcare, and service businesses, AVer is the latest charging solution to be Designed for Surface certified. Beginning with the AVerCharge C36i+ which is able to charge and store up to 36 Microsoft Surface devices*. Featuring Adaptive Intelligent Charging Technology to keep devices charged safely and evenly, as well as slide-out shelves for easy access.
AVer will soon be releasing additional Designed for Surface Charging Solutions with a variety of slot numbers and additional features.
"We are excited to have AVer in the Designed for Surface family and believe that their new certified accessories will make a difference for Surface enthusiasts in the commercial space."
"This partnership with Microsoft offers the perfect synergy between Microsoft Surface Laptops and markets where the need for charging and storage is great, such as education, healthcare, or service businesses,"




"Because these solutions are Microsoft Designed for Surface, there is no worry about compatibility or charging cable issues."
*Compatible with: Surface Pro 4, 5, 6, 7, 7+, 8, X; Surface Laptop 3, 4; Surface Go, Go 2, 3; Surface Laptop Go; Surface Laptop SE; Surface Book 1, 2, 3; Surface Laptop Studio
About AVer Information Inc.
Founded in 2008, AVer is an award-winning provider of education technology and video collaboration camera solutions that improve productivity and enrich learning. From accelerating learning in the classroom to increasing competitive advantage for businesses, AVer solutions leverage the power of technology to help people connect with one another to achieve great things. Our product portfolio includes Professional Grade Artificial Intelligence Enabled Auto Tracking Cameras, Zoom and Microsoft Teams Certified Enterprise Grade USB Cameras, Document Cameras and Mobile Device Charging Solutions. We strive to provide industry leading service and support that exceeds our customer's expectations. We are also deeply committed to our community, the environment and employ stringent green processes in all we do. Learn more at
averusa.com
and follow us
@AVerInformation
.
Press and Media Inquiries
James Salter
Senior Vice President of Marketing
AVer Information Inc. Americas
P: +1-408-687-5781
E:
james.salter@aver.com
Go Back