AVer Information Kicks off 2022 at TCEA with Award Winning Enhanced Distance, Hybrid and Classroom Learning Solutions
AVer to Unveil the Latest Award Winning Classroom Solutions Designed to Support In-Class, Remote and Hybrid Instruction, as well as AVer's first $99 Document Camera
Fremont, CA - February 7, 2022
AVer Information Inc., Americas the award-winning provider of distance learning, video collaboration and education technology solutions, announced today the unveiling of new solutions at TCEA 2022, booth 1926 in Dallas, TX. The first time TCEA is being held live since the Pandemic began, AVer will be demonstrating the latest in Award Winning Distance Learning, Hybrid Learning and In-Class solutions designed to keep students engaged no matter where teaching and learning are taking place.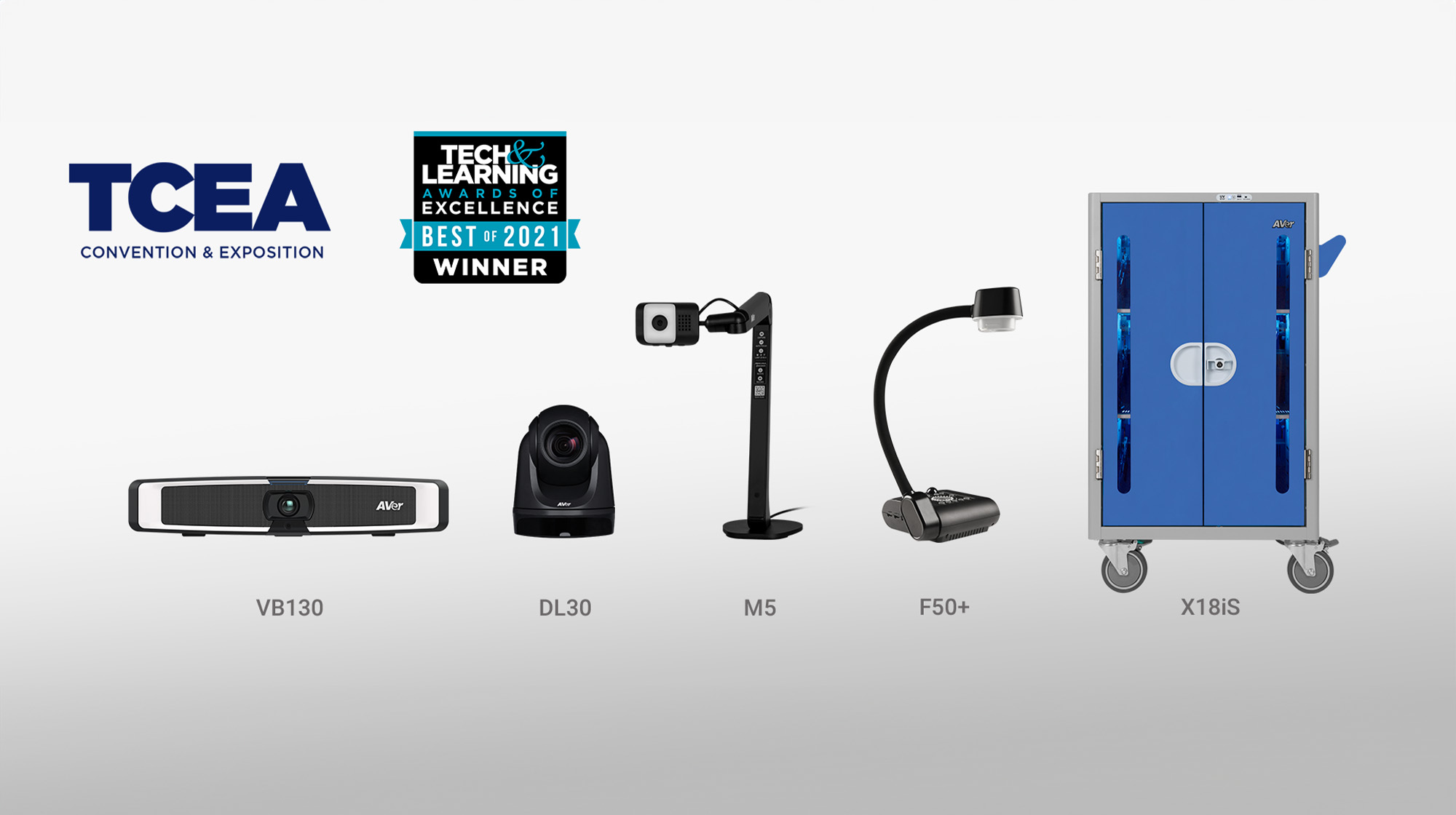 Leading TCEA for AVer will be the latest Distance Learning Cameras, the DL30 and the VB130 All-in-One Distance Learning Video Collaboration Bar. Whether students are fully remote, hybrid, or have some who cannot attend in-person class for long periods of time, AVer's Distance Learning Cameras keep every student engaged regardless of how the climate may change.
AVer will also be showcasing the new F50+ Document Camera which has been upgraded from the popular F50 model to include 4K video output, 10X optical zoom and other features. AVer will also be announcing a price reduction for the M5 Distance Learning Document Camera to $99.99, making it increasingly affordable for both home and classroom use, an essential tool both during and after the pandemic. Distance Learning Document Cameras can easily be used in-class, taken home for remote instruction, and have also been used as high-definition web cameras.
All of AVer's Distance Learning Cameras and Document Cameras include lecture capture capabilities, allowing teachers to record and upload full lessons with video and audio for student review, absent students, and in the even of further school shut-downs.
The X18iS Laptop and Device Charging Cart will also be demonstrated as an 18 bay student device charging solution with UV sanitation. Certified to kill up to 99.99% of bacteria, microbials and viruses in under 5 minutes, the X18is keeps student devices charged, secure, clean, and ready for use without missing a beat.
"With the continued ever-changing COVID climate, new variants with cases spiking across the country, AVer is dedicated to providing solutions that will help keep students and staff safer while ensuring all students remain engaged in their curriculum,"




"These solutions are not only designed to help educators and students get through the current climate, but will continue to be sustainable and relevant in the long term as teaching and learning continues to change."
About AVer Information Inc.
Founded in 2008, AVer is an award-winning provider of education technology and video collaboration camera solutions that improve productivity and enrich learning. From accelerating learning in the classroom to increasing competitive advantage for businesses, AVer solutions leverage the power of technology to help people connect with one another to achieve great things. Our product portfolio includes Professional Grade Artificial Intelligence Enabled Auto Tracking Cameras, Zoom and Microsoft Teams Certified Enterprise Grade USB Cameras, Document Cameras and Mobile Device Charging Solutions. We strive to provide industry leading service and support that exceeds our customer's expectations. We are also deeply committed to our community, the environment and employ stringent green processes in all we do. Learn more at
averusa.com
and follow us
@AVerInformation
.
Press and Media Inquiries
James Salter
Senior Vice President of Marketing
AVer Information Inc. Americas
P: +1-408-687-5781
E:
james.salter@aver.com
Go Back