AVer Wins Three Best of Show Awards At ISTELive 22
Tech & Learning's Best of Show Awards celebrate the products and businesses behind them who are transforming education in schools around the world
Fremont, CA - July 6, 2022
AVer Information Inc., the award-winning provider of distance learning, video collaboration and education technology solutions, announces that Tech & Learning, a leading education technology publication, has selected the DL30 Auto Tracking Classroom Learning Camera, the VB130 All-in-One Classroom Learning Video Collaboration Bar and the M5 Distance Learning Document Camera as winners of Best of Show Awards at ISTELive 22 held in New Orleans.
The Tech & Learning's Best of Show Awards recognize the products who have, or will have, a great impact on teaching and learning experiences. Winners are selected by a panel of professional users and editors based on information provided on nomination forms and inspection during the convention.
"It was great to be back in person at ISTELive22 and see so many examples of innovation on the exhibit hall floor,"




"Our judges chose the following winners as examples of excellence in terms of value, quality, ease of use, and versatility. Congratulations to our winners!"
AVer's popular M5 Distance Learning Document Camera is a plug-n-play, easy-to-use, yet high-quality affordable document camera that is perfect for both the classroom and home use. With an 8MP camera putting out Ultra High Definition (UHD) resolution and frame rates up to 60FPS, content is clear, crisp and smooth, while the 360° swivel camera head allows you to point the camera in any direction in the room.
AVer's Classroom Cameras, the DL30 Auto Tracking Classroom Learning Camera and the VB130 All-in-One Classroom Learning Video Collaboration Bar were designed to keep every student engaged regardless of where teaching and learning are taking place: remotely, hybrid or in-person. All Classroom Cameras include recording capabilities and can be used as high-definition web cameras.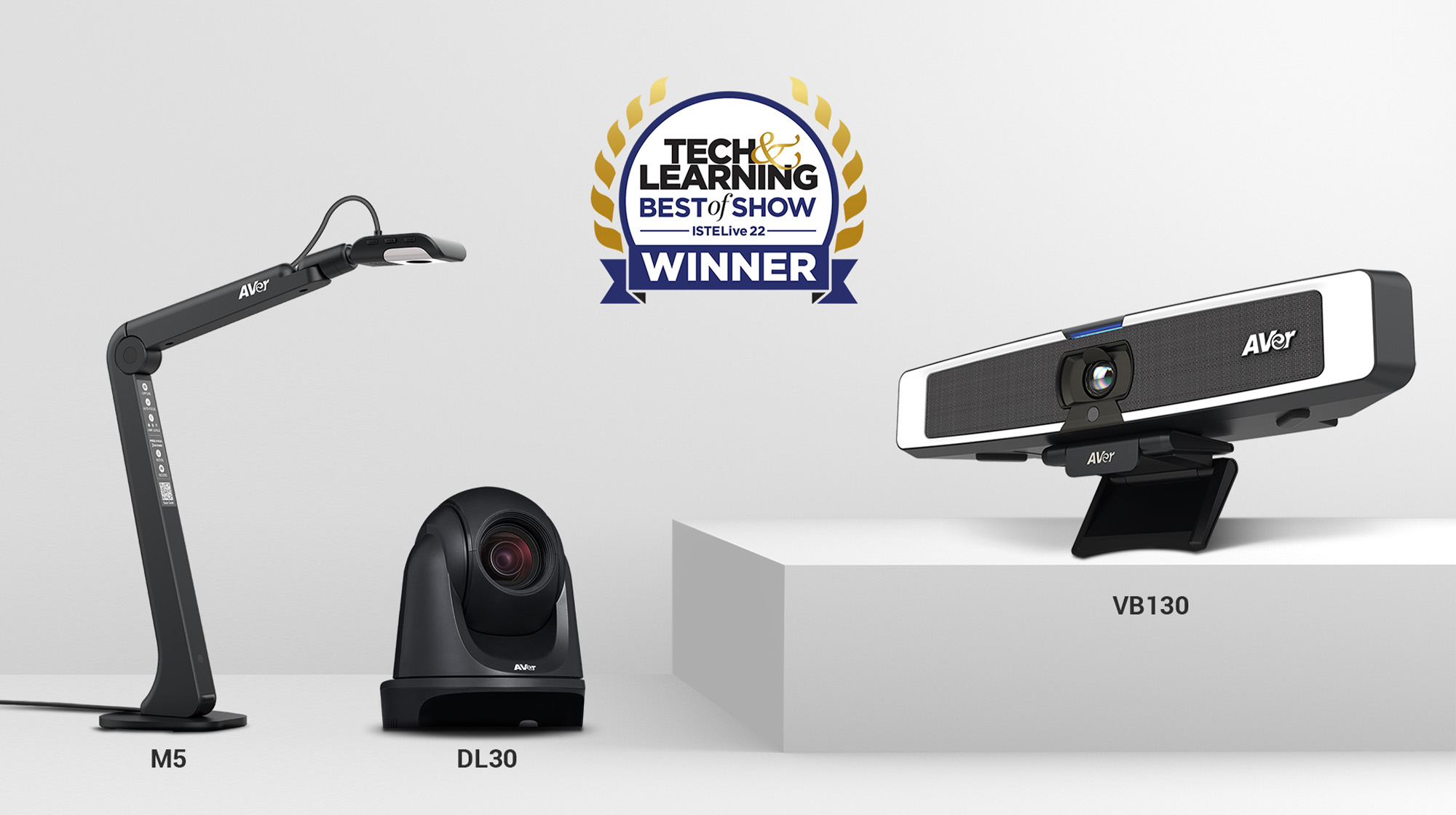 "We are honored to have received these awards,"




"Our products are developed with teachers and students in mind to help create a better teaching and learning experience for them. Our team is proud to be recognized for that."
To learn more about AVer products, please visit averusa.com. Keep up with the latest news from AVer on Twitter, Facebook, and LinkedIn.
About AVer Information Inc.
Founded in 2008, AVer is an award-winning provider of education technology and video collaboration camera solutions that improve productivity and enrich learning. From accelerating learning in the classroom to increasing competitive advantage for businesses, AVer solutions leverage the power of technology to help people connect with one another to achieve great things. Our product portfolio includes Professional Grade Artificial Intelligence Enabled Auto Tracking Cameras, Zoom and Microsoft Teams Certified Enterprise Grade USB Cameras, Document Cameras and Mobile Device Charging Solutions. We strive to provide industry leading service and support that exceeds our customer's expectations. We are also deeply committed to our community, the environment and employ stringent green processes in all we do. Learn more at
averusa.com
and follow us
@AVerInformation
.
Press and Media Inquiries
Alice Stevens
K-12 Channel Marketing Director
AVer Information Inc. Americas
P: +1-408-821-1304
E:
alice.stevens@aver.com
Go Back