AVer Receives Four 2020 Tech & Learning Magazine Awards of Excellence
Products Honored Address Classroom Productivity and Distance Learning
Fremont, CA - July 16, 2020
AVer Information Inc. USA, the award-winning provider of video collaboration solutions and education technology solutions, announced today that four of its latest education solutions have been selected as a winners of the 2020 Tech & Learning Awards of Excellence. The 2020 awards judged a variety of nominated products and selected those products that are improving the way educators work and students learn. AVer's M15W and M70W Wireless Document Cameras, the TR530 Professional Auto Tracking and Live Streaming Camera, as well as the CB-310 Magic Presenter were all recognized with this long-running and prestigious award.
The AVer M15W and M70W each offer a mobile wireless document camera solution where teachers are free to move about the room without limitation. Both innovative and compact document cameras are perfect for the modern-day classroom featuring 4K output, 13MP, Peer-to-Peer (P2P) WiFi connectivity, HDMI/USB, and on-board battery. These TAA certified document cameras can be used for distance learning as well. The TR530 allows remote students to gain the full classroom experience of detailed live video streams while learning from home. The TR530 boasts a powerful PTZ camera with 30X optical zoom and a secondary 120° FOV panoramic camera providing users crystal-clear full HD 1080p video resolution and 3 auto tracking modes that easily follow the teacher around the classroom. The CB-310 Magic Presenter is a stand-alone Android™ module that connects teacher and student devices with traditional classroom equipment to create immersive learning experiences. With the CB-310 you don't need to spend thousands on new interactive touch panels to access the latest learning tools and sharing classroom content.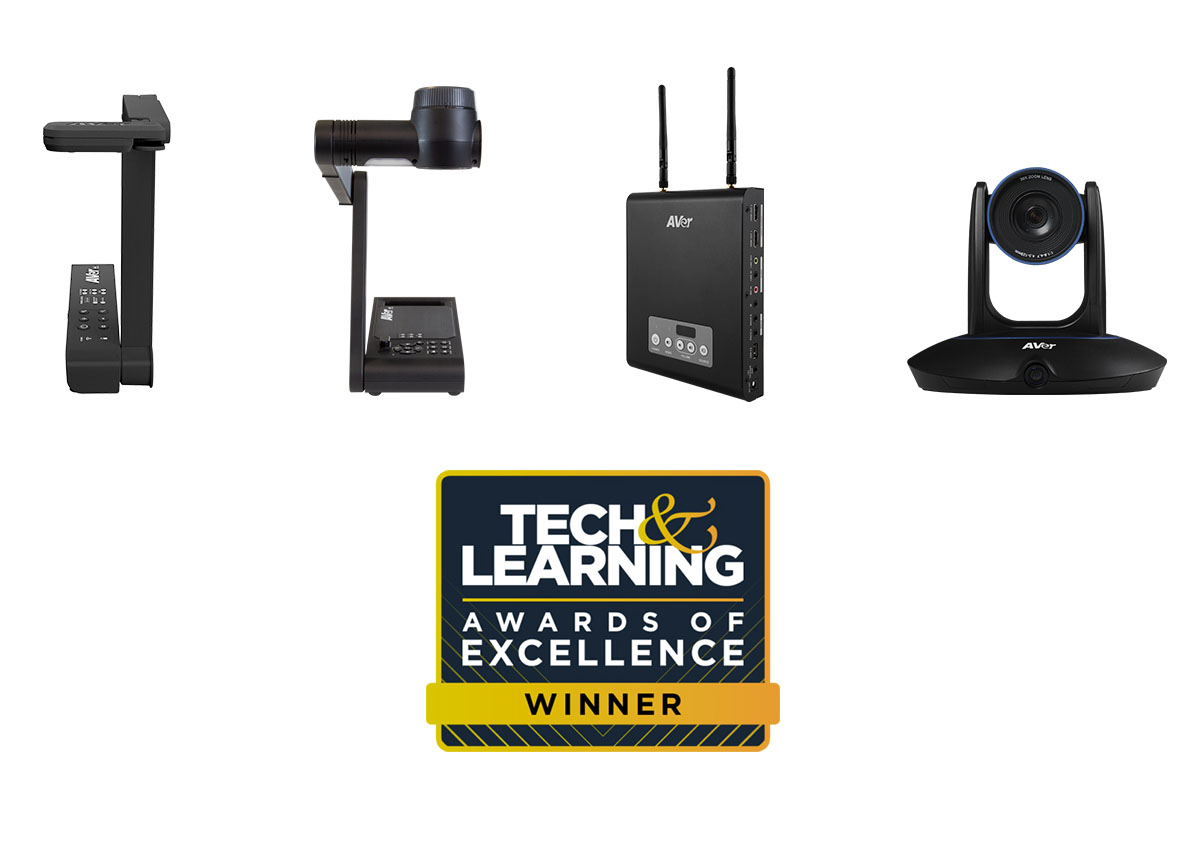 From left to right: M15W, M70W, CB-310 Magic Presenter, TR530
"For over 40 years, Tech & Learning has reported on how edtech products are improving teaching and learning -- and this has never been more important than during this unprecedented time,"




"For this year's contest, our judges looked for stand-out products that are helping schools navigate these challenges by solving problems and driving innovation."
"These awards are a testament to AVer's dedication to advancements in teaching and learning, especially during these ever-changing times,"




"AVer is committed to providing educators with relevant tools to engage and inspire students whether they are learning from home or in the classroom."
About AVer Information Inc.
Founded in 2008, AVer is an award-winning provider of education technology and video collaboration camera solutions that improve productivity and enrich learning. From accelerating learning in the classroom to increasing competitive advantage for businesses, AVer solutions leverage the power of technology to help people connect with one another to achieve great things. Our product portfolio includes Professional Grade Artificial Intelligence Enabled Auto Tracking Cameras, Zoom and Microsoft Teams Certified Enterprise Grade USB Cameras, Document Cameras and Mobile Device Charging Solutions. We strive to provide industry leading service and support that exceeds our customer's expectations. We are also deeply committed to our community, the environment and employ stringent green processes in all we do. Learn more at
averusa.com
and follow us
@AVerInformation
.
Press and Media Inquiries
James Salter
Senior Vice President of Marketing
AVer Information Inc. Americas
P: +1-408-687-5781
E:
james.salter@aver.com
Go Back