AVer Wins Four Tech & Learning Awards of Excellence
Four AVer Solutions Win Top Honors for Remote, Blended and Distance Learning
Fremont, CA - March 8, 2021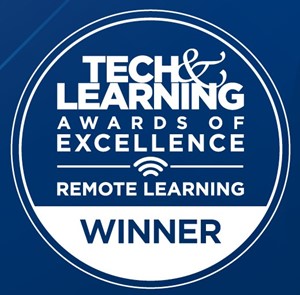 AVer Information Inc. USA, the award-winning provider of video collaboration, distance learning and education technology solutions, announced today that four AVer solutions have been awarded top honors from Tech & Learning Magazine Awards of Excellence for Best Remote/Blended Learning Tools for Primary and Secondary Grades.
"Despite the many challenges schools have had to face this past year, technology continues to be one of the key drivers for innovation,"




"The winning products recognized here have supported continuous instruction throughout the pandemic, and we expect this momentum to continue into next year and beyond. Congratulations to all of our winners."
"These uncertain times have left schools and districts struggling to keep up with the changing climate, trying to prepare for the inevitable changes in how instruction is delivered,"




"These awards are a testament to AVer's dedication to providing innovative, yet flexible solutions that work with educators no matter where teaching and learning are taking place."
About AVer Information Inc.
Founded in 2008, AVer is an award-winning provider of education technology and video collaboration camera solutions that improve productivity and enrich learning. From accelerating learning in the classroom to increasing competitive advantage for businesses, AVer solutions leverage the power of technology to help people connect with one another to achieve great things. Our product portfolio includes Professional Grade Artificial Intelligence Enabled Auto Tracking Cameras, Zoom and Microsoft Teams Certified Enterprise Grade USB Cameras, Document Cameras and Mobile Device Charging Solutions. We strive to provide industry leading service and support that exceeds our customer's expectations. We are also deeply committed to our community, the environment and employ stringent green processes in all we do. Learn more at
averusa.com
and follow us
@AVerInformation
.
Press and Media Inquiries
James Salter
Senior Vice President of Marketing
AVer Information Inc. Americas
P: +1-408-687-5781
E:
james.salter@aver.com
Go Back