Discover Voice Tracking
Have you ever wondered if you could program the AVer Professional PTZ cameras to do voice-based tracking in a large meeting room, classroom or lecture hall? Have you ever wondered if you could achieve all of the above without having to resort to expensive programming?
Introducing the AVer PTZ Link Audio Tracking Software
AVer PTZ Link is an app (Win/MAC) designed to enhance AVer Professional Auto Tracking and PTZ cameras with voice-based camera tracking technology. By using select third-party microphones from the Shure® Microflex Advance range (MXA920 Ceiling Array Microphone, MXA910 Ceiling Array Microphone, MXA710 Linear Array Microphone, MXA310 TAble Array Microphone), Shure P300 with Dante Input, Shure INTELLIMIX® ROOM, the Sennheiser® TeamConnect Ceiling 2 microphone, the Nureva HDL300 and Dual HDL300 audio conferencing systems, the Yamaha ADECIA, or the ClearOne BMA 360 Beamforming Microphone Array System and ClearOne CONVERGE® Pro 2 Digital Signal Processor (DSP), the AVer Pro AV camera can automatically switch focus between different speakers. With automated and smooth camera panning, this solution is ideal for conferences, training courses, classrooms and lecture halls.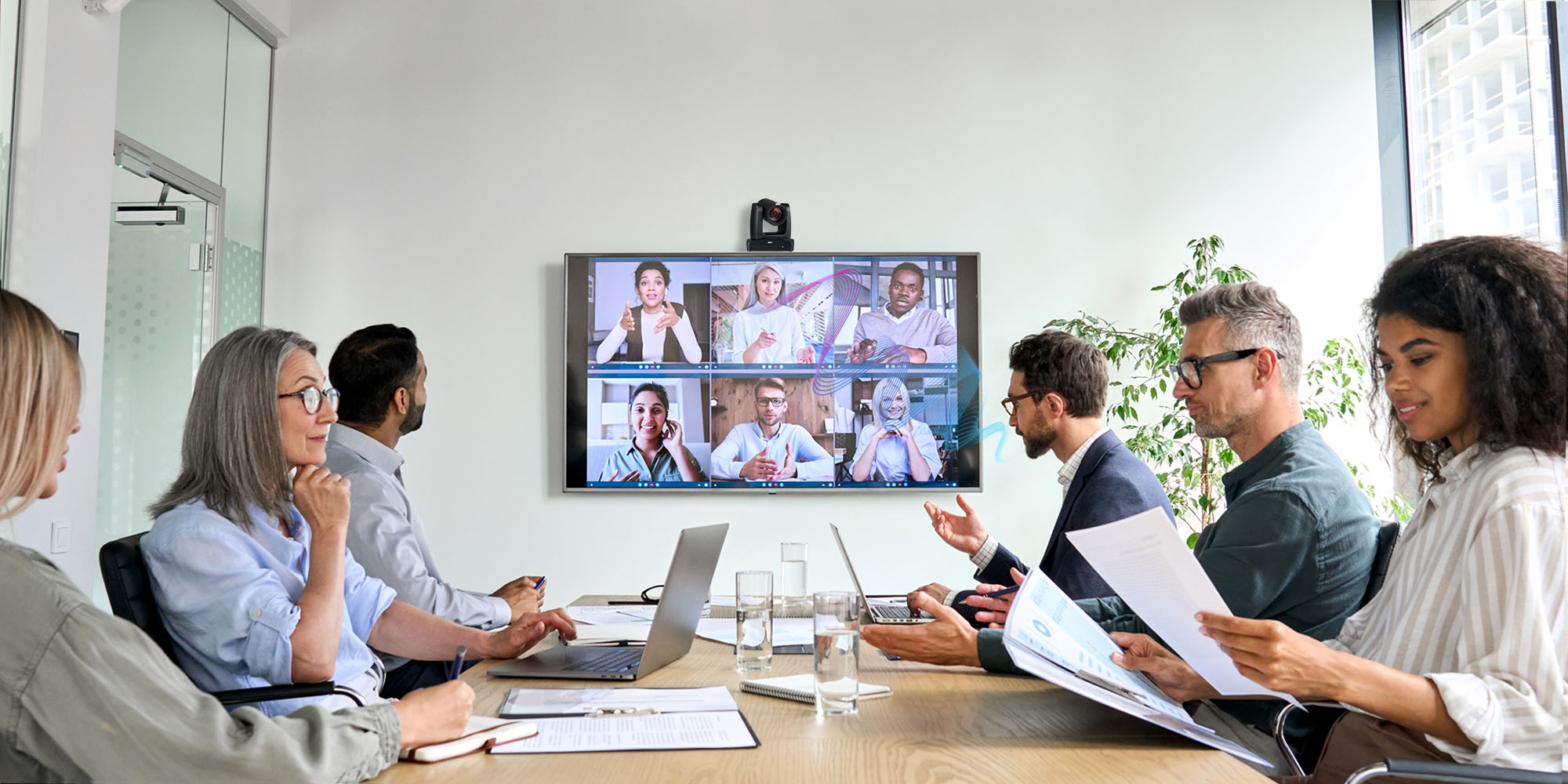 With the PTZ Link software loaded on a computer, you can easily program the software to link up to 5 pairs of microphones and AVer PTZ cameras. A slight time delay can also be set for the PTZ camera so that I only pan/tilt once there is a permanent audio signal. The system can also be programmed to default to a preset if audio is not being detected after an extended period of time making automation much easier.
The audio-based tracking can be used in conjunction with AVer's Auto Tracking and PTZ Cameras such as the PTZ310/330 series, TR3XX series or the TR530/320 series. For example, in a lecture hall with a multi-camera setup, the speaker can be tracked by an AVer Auto Tracking TR311HN camera while other participants are filmed with a second camera when they speak using audio-based tracking. The software interface is refined so that you don't need to be tech-savvy to use this system and there is no need to have camera operators or other crew on site.
Requirements
Any supported AVer Professional PTZ Camera such as the PTZ310/330 series, TR3XX series, TR530/320 series.
Reliable network for the camera and PC
PC or MAC with the latest Windows® 7, 8.1, 10, 11 or Mac OS (10.14 or above)
Yamaha ADECIA
Yamaha RM-CG Ceiling Array Microphone
Yamaha RM-TT Tabletop Array Microphone
Yamaha RM-CR Remote Conference Processor
Yamaha RM-W Wireless Microphone System
Shure Microflex Advance microphones including MXA920, MXA910, MXA710, and MXA310.
Shure P300 with Dante Input
Shure INTELLIMIX® ROOM
Sennheiser TeamConnect Ceiling 2 Microphone.
Nureva HDL300 or Dual HDL300 audio conferencing systems
ClearOne BMA 360 Beamforming Microphone Array System
ClearOne CONVERGE® Pro 2 Digital Signal Processor (DSP)
Audio-Technica ATND1061 Beamforming Ceiling Array Microphone
Voice Tracking Resources
Visit our support section to download the PTZ Link Software (Free)
Download
Connection Diagram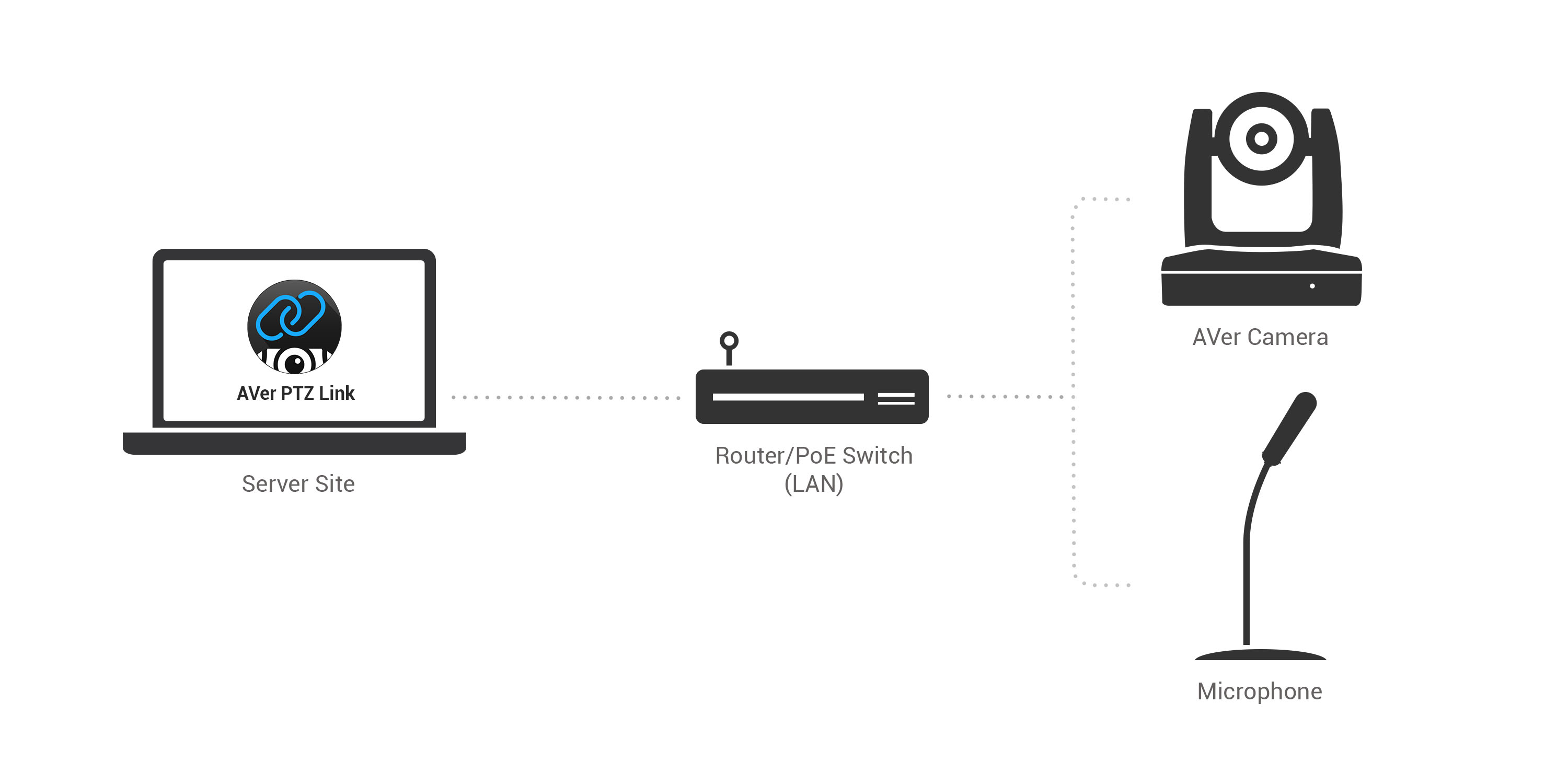 ---
---
---

About Sennheiser
Shaping the future of audio and creating unique sound experiences for customers – this aim unites Sennheiser employees and partners worldwide. Founded in 1945, Sennheiser is one of the world's leading manufacturers of headphones, loudspeakers, microphones and wireless transmission systems. Since 2013, Sennheiser has been managed by Daniel Sennheiser and Dr. Andreas Sennheiser, the third generation of the family to run the company. In 2020, the Sennheiser Group generated turnover totaling €573.5 million.
---
---
---
About Nureva
Nureva Inc. is a technology-rich, multiple award-winning private company that imagines and builds audio conferencing solutions that solve the frustrating and persistent problem of poor audio performance in meeting and learning spaces. At the core of every system is the company's patented Microphone Mist technology, which places thousands of virtual microphones throughout a space to pick up sound from anywhere in the room and deliver clear, reliable audio to remote participants. A passion for achieving simplicity through deep user understanding drives the company's product roadmap and the value it creates for its customers.
---

About Yamaha
Audio and video conferencing solutions from Yamaha streamline collaboration and boost productivity wherever people need to speak openly, share freely and create exceptional things. Yamaha's considered approach to building enterprise-grade microphone systems, conference phones, and video sound bars ensures exceptional audio quality, ease of connectivity and flexibility for meetings across the table or across the globe. Wired and wireless options complement today's nuanced and hectic business systems. With core tenets of simplicity, clarity and efficiency, Yamaha brings to unified communications a passion for sound and performance that has been creating excitement and inspiration for more than 130 years.