13

Mega Pixel

30

FPS

16x

Digital Zoom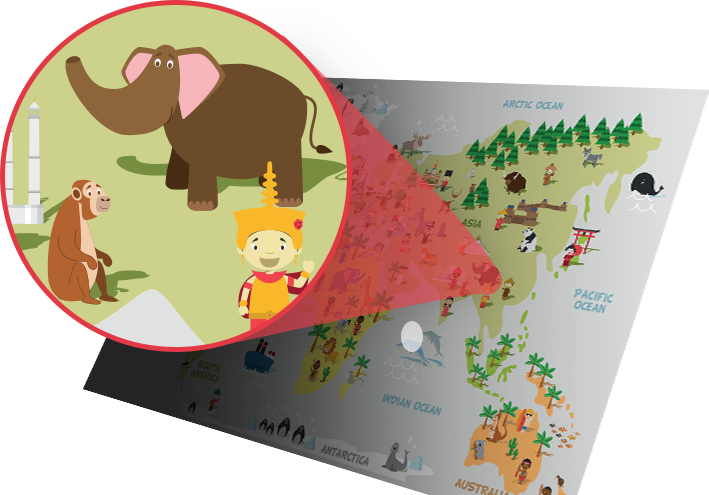 Don't miss a pixel
The U70+, with its built in 13MP camera with 16x digital zoom, delivers best in class pixel performance capturing full resolution that enables vibrant, ultra-clear images.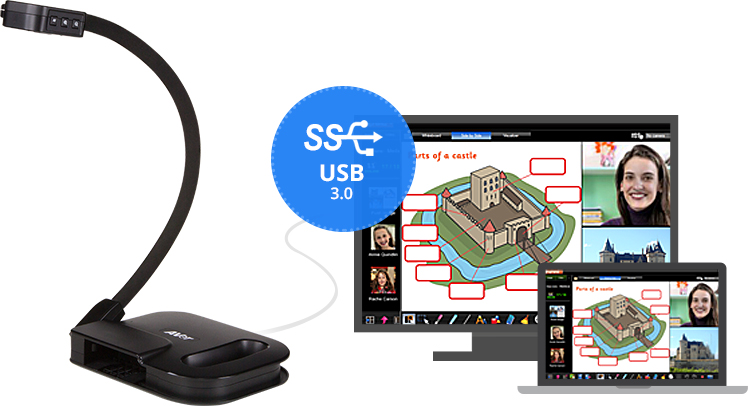 A whole new level of speed
Add USB power and you've got a FlexArm document camera that super speeds everything to and from its connected device providing a lag-free streaming experience.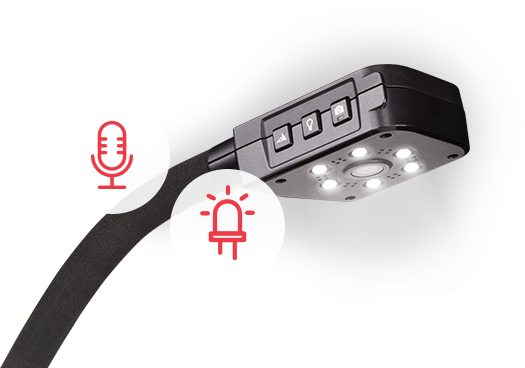 Smart tools are handy tools
Whether you're doing a live demonstration or livestreaming, leverage U70+'s embedded built-in LED and microphone to spotlight your subject and listen in on the learning experience.
Integrate to collaborate
Use U70+'s free Sphere2 & ClassSend softwares to inspire innovative lesson creation and build classroom engagement. It's the bridge that connects you and your document camera to your students.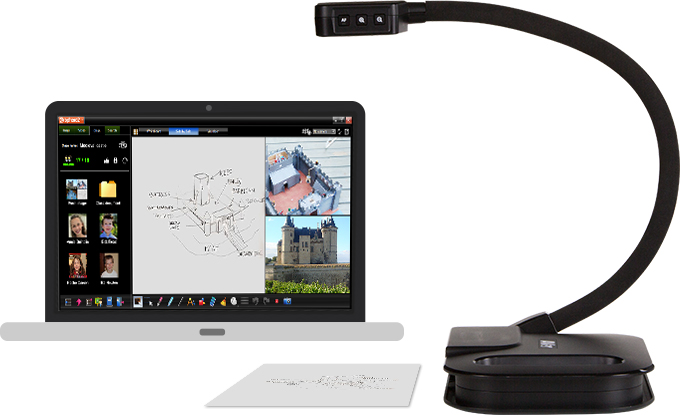 ---

The AVer Document Camera has been the best teaching tool I have ever used. I have no regrets about getting the document camera instead of an interactive white board. The document camera has so many more functions and uses than I ever imagined.

With a compact and robust design and free software for screencasting, manipulating and sharing video, the AVer F17HD is one of the best HD cameras available.
Specifications
| Sensor1/3.06" CMOS | Pixel count13 megapixels |
| --- | --- |
| Zooming16X digital zoom | Shooting areaMax. 20.8" x 15.5" |
Image
Sensor
1/3.06" CMOS
Pixel count
13 megapixels
TV lines
1400 (8MP) / 1100 (2MP) / 800 (SXGA/720P/XGA)
Frame rate
True 4K @ 30fps / True HD @ 60fps
White balance
Auto / Manual
Exposure
Auto / Manual
USB output
4164x3112, 3840x2160, 1920x1080, 1280x1024, 1280x720, 1024x768, 800x600, 640x480
Optics
Focus
Auto/Manual
Shooting area
Max (Large than A3 420*297)
4:3 = 530x396 mm (+/- 10mm) @410mm
high/ 20.8x15.5 inch
16:9=545x305 mm (+/- 10mm) @440mm
high/ 21.4x12.0 inch
5:4=498x397 mm (+/- 10mm) @410mm
high/19.6x15.6 inch
Min
4:3 = 130x96 mm (+/- 10mm) @100mm
high/ 5.1x3.7 inch
16:9=123x69 mm (+/- 10mm) @100mm
high/ 4.8x2.7 inch
5:4=120x96 mm (+/- 10mm) @100mm
high/ 4.7x3.7 inch
Zooming
16X digital zoom
** frame rate could vary depending on computer hardware speed
Button functions
Snapshot
Take a snapshot onto AVer software
LED
Turns on the LED light
AF
Initiates the auto focus
Rotate
Rotate image (via AVer software only)
Zoom in
Digitally zoom into image (via AVer software only)
Zoom out
Digitally zoom out of image (via AVer software only)
Compatibility
Operating systems
Windows 7 (32/64 bit), Windows 8 (32/64 bit), Windows 10 (32/64 bit), Mac OS X 10.10 or above (Intel based), Chrome OS 29 or above
AVer software
AVer A+ software suite (Sphere 2), Sphere Lite (for Chromebook)
Interactive whiteboard compatibility
Yes with AVerVision Flash plug-in*
* certain limitations apply
Power
Power source
Powered from USB connection
Consumption
4.0 Watts (lamp on)@USB3.0;
3.3Watts (lamp off)@USB3.0
2.5 Watts (lamp on)@USB2.0;
1.8Watts (lamp off)@USB2.0
Lighting
Lamp type
LED light
Input/Output connections
USB
USB3.0 port (functions as PC connectivity and Power)
MIC
Built in
* USB2.0 compatibility on Mac OS.
Dimension
Operating
9.1" x 12.2" x 18.4" 233mm x 312mm x 468mm (+/-2mm include rubber foot)
Folded
9.5" x 7.3" x 1.7" 242mm x 187.5mm x 44mm (+/-2mm include rubber foot)
Weight
1.7kg(+/-0.1kg) (3.74lbs)
Optional accessories
Anti-glare sheet
Part number: PANTIGLA1 (A5 size 8.26" x 5.84")
Carrying bag
Part number: VISIOCPCC
Package contents
U70+
4.92' (1.5m) USB3.0 cable
Warranty card
Quick guide
Others
Ordering Info
SKU: VISU70PLS