AVer to Showcase Award-Winning Video Collaboration Solutions at InfoComm
AVer set to showcase newest hardware products at InfoComm 2022 on June 8-10
Fremont, CA – June 6, 2022
AVer Information Inc. USA, the award-winning provider of education technology and video collaboration solutions, announces their participation in InfoComm 2022, produced by AVIXA. Join AVer at InfoComm 2022 on June 4-10 (exhibits June 8-10) at the Las Vegas Convention Booth # W2847 to explore the latest collaboration trends, tools, and technology.
On the InfoComm 2022 trade show floor, nearly 200 exhibitors will showcase conferencing and collaboration solutions, from meeting room booking hardware and software, and team collaboration apps, to video conferencing hardware and software.
"The future of the corporate workplace is top of mind this year as companies experience the impacts of returning to the office after two years with a remote workforce,"




"For InfoComm 2022, we've assembled top technologists, engineers, designers, and end users to share what solutions are working for them and what changes are needed to move conferencing and collaboration forward."
"We are excited to participate in InfoComm to showcase our ecosystem of video collaboration solutions and pro-av solutions,"




"This year we are providing more opportunities for customers to get hands on with AVer products and our partners' hardware, networking with attendees, and we are hosting an educational session. We can't wait to see you there."
At InfoComm 2022 AVer will showcase their ecosystem of solutions including their newest video conferencing and Pro AV cameras listed below: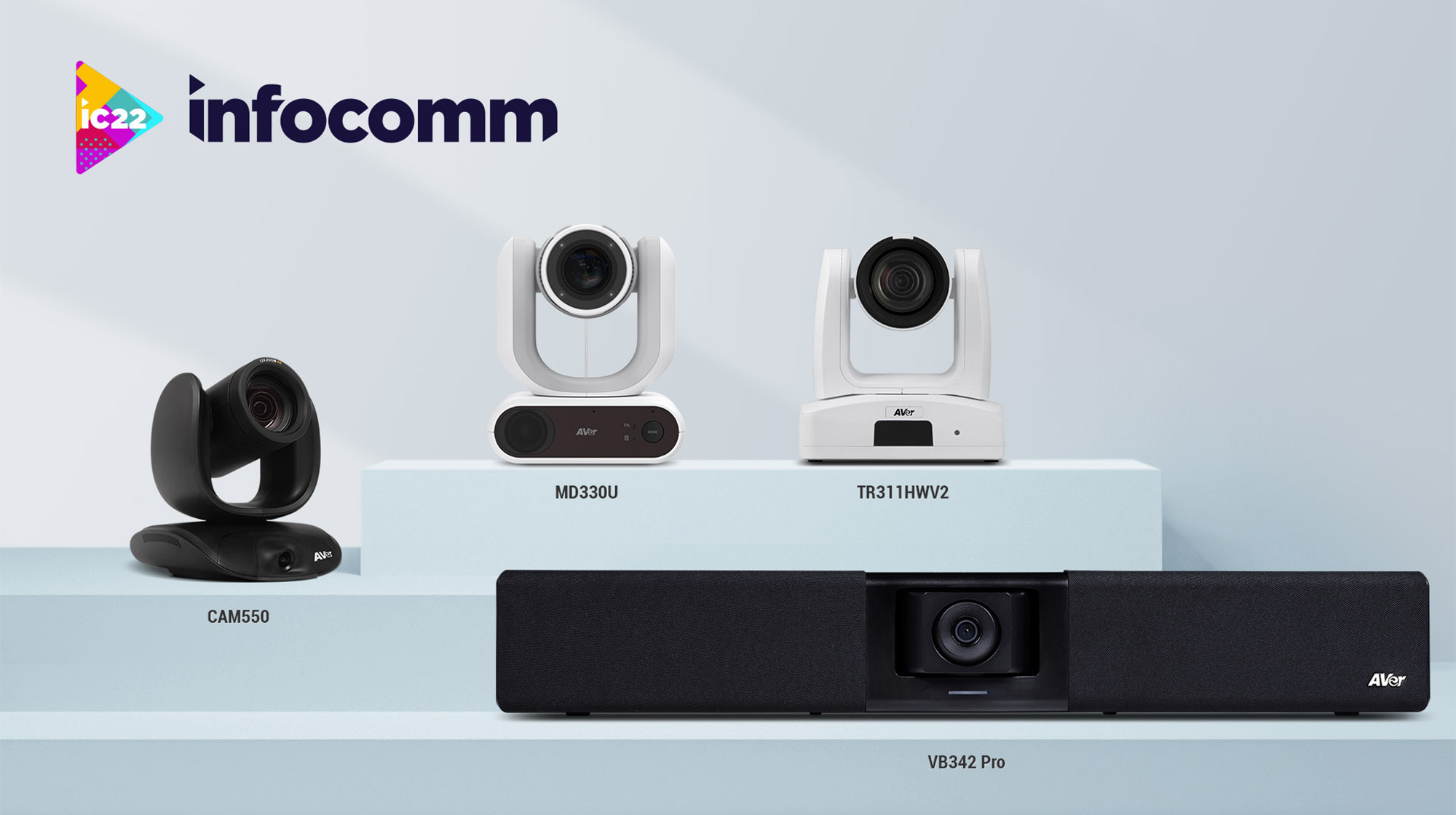 AVer will host an educational session entitled "Hardware Certification - Is It Necessary", presented by Phil Marechal, Product Director for K-12. Phil will discuss certification for Microsoft Teams and Zoom as well as the pros and cons of selecting hardware devices on Wednesday, June 8, 2022, from 8:30-9:00am in room W325-W327. Participants who attend will earn .5 CTS credits.
Check out AVer's cameras in the following booths: Zoom W1523, Lenovo W2623, Heckler W2053, Nuerva W2537, Barco W1203, Shure W2003, & Sennheiser W957.
To learn more about InfoComm 2022 and register to attend, visit www.infocommshow.org
To learn more about AVer products, please visit averusa.com.To keep up with the latest news from AVer at InfoComm follow #CoolMeetings on Twitter, Facebook, and LinkedIn.
About AVer Information Inc.
Founded in 2008, AVer is an award-winning provider of education technology and video collaboration camera solutions that improve productivity and enrich learning. From accelerating learning in the classroom to increasing competitive advantage for businesses, AVer solutions leverage the power of technology to help people connect with one another to achieve great things. Our product portfolio includes Professional Grade Artificial Intelligence Enabled Auto Tracking Cameras, Zoom and Microsoft Teams Certified Enterprise Grade USB Cameras, Document Cameras and Mobile Device Charging Solutions. We strive to provide industry leading service and support that exceeds our customer's expectations. We are also deeply committed to our community, the environment and employ stringent green processes in all we do. Learn more at
averusa.com
and follow us
@AVerInformation
.
Press and Media Inquiries
Alice Stevens
Channel Marketing Director
AVer Information Inc. Americas
P: +1-408-821-1304
E:
alice.stevens@aver.com
Go Back