AVer Debuts Two 4K 12X AI PTZ Cameras
AVer introduces world's first UHD NDI® HX3 camera, the PTZ310UNV2 and the PTZ310UV2, AI PTZ cameras built for broadcasting, streaming or recording
Fremont, CA - March 28, 2023
AVer Information Inc. USA, the award-winning provider of video collaboration solutions and education technology solutions, announces the PTZ310UNV2 and PTZ310UV2, two next generation 4K 12X AI PTZ Cameras combining the best image quality, video streaming support and AI functionality.
AVer's PTZ310UNV2, the world's first UHD NDI HX3 camera, features 4K resolution, 12X optical zoom and 8MP pictures with 60fps. Designed for broadcasting and streaming, the PTZ310UNV2 features the latest format of NDI. It boasts reduced latency with less than 100ms while only utilizing a fraction of the bandwidth of NDI high bandwidth. The PTZ310UNV2 enables simultaneous output at 4Kp60 with HDMI/NDI/IP to provide the best image quality and video streaming capabilities. Featuring built-in AI functions, like SmartShoot, the PTZ310UNV2 provides an intuitive yet simplified user experience.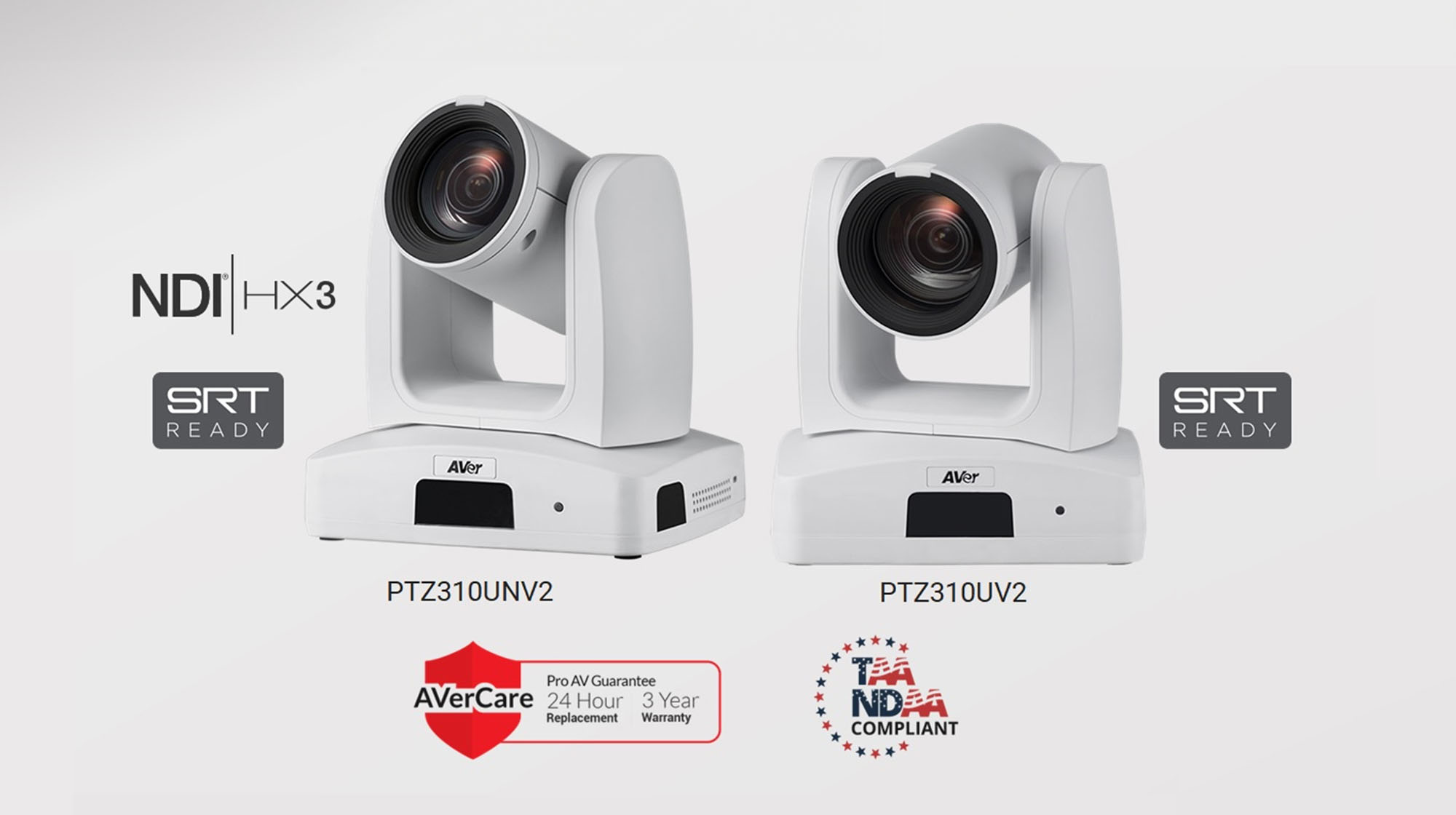 The PTZ310UV2 combines crisp image quality, video streaming support and AI functionality to provide a reliable, feature-rich solution for capturing events. The PTZ310UV2 features 4K resolution, 12X optical zoom and 8MP pictures with 60fps to support broadcasting and streaming applications. The PTZ310UV2 combines AVer's intelligent AI functions, including SmartShoot, to provide present content areas and adjust viewpoints to capture all meeting participants.
Featuring AI functionality, the PTZ310UNV2 and PTZ310UV2 optimize camera controls for automatic content capturing between present areas and the ability to create a multi-camera feel across preset zones. The PTZ310UNV2 and PTZ310UV2 integrate framing technology, which instantly adjusts the field of view (FOV) to capture multiple people, fit everyone on-screen, and easily record presentations, lectures and more with a simple touch. The PTZ310UNV2 and PTZ310UV2 also feature Zoom and Microsoft Teams video mode for a simplified user experience with popular video conferencing platforms. Additionally, the SRT protocol within PTZ310UNV2 and PTZ310UV2 optimizes video streaming performance across unpredictable networks. Both cameras are only available in white, include NDAA and TAA compliance and are protected by the industry-leading AVerCare warranty.
"We are thrilled to introduce a new generation of PTZ cameras for broadcasting, streaming and recording,"




"The PTZ310UNV2 and PTZ310UV2 pack powerful, intuitive features to support a variety of streaming and broadcasting applications. Notably, the PTZ310UNV2 is the first-of-its-kind by integrating the latest edition of NDI to promote low latency for live broadcasting and content sharing."
"The addition of AVer's new NDI-enabled PTZ cameras into our growing ecosystem of devices, integrating NDI HX3, our most advanced and efficient format, will enable amazing video creation experiences for customers. We are excited to be working closer than ever with AVer, as it continues to embrace the power of NDI to support our joint customers, partners, and an emerging video market,"



To learn more about AVer's lineup of auto tracking and PTZ cameras, visit pro.averusa.com
About AVer Information Inc.
Founded in 2008, AVer is an award-winning provider of education technology and video collaboration camera solutions that improve productivity and enrich learning. From accelerating learning in the classroom to increasing competitive advantage for businesses, AVer solutions leverage the power of technology to help people connect with one another to achieve great things. Our product portfolio includes Professional Grade Artificial Intelligence Enabled Auto Tracking Cameras, Zoom and Microsoft Teams Certified Enterprise Grade USB Cameras, Document Cameras and Mobile Device Charging Solutions. We strive to provide industry leading service and support that exceeds our customer's expectations. We are also deeply committed to our community, the environment and employ stringent green processes in all we do. Learn more at
averusa.com
and follow us
@AVerInformation
.
Press and Media Inquiries
James Salter
Senior Vice President of Marketing
AVer Information Inc. Americas
P: +1-408-687-5781
E:
james.salter@aver.com
Go Back